Must-See Front Yard Fence Ideas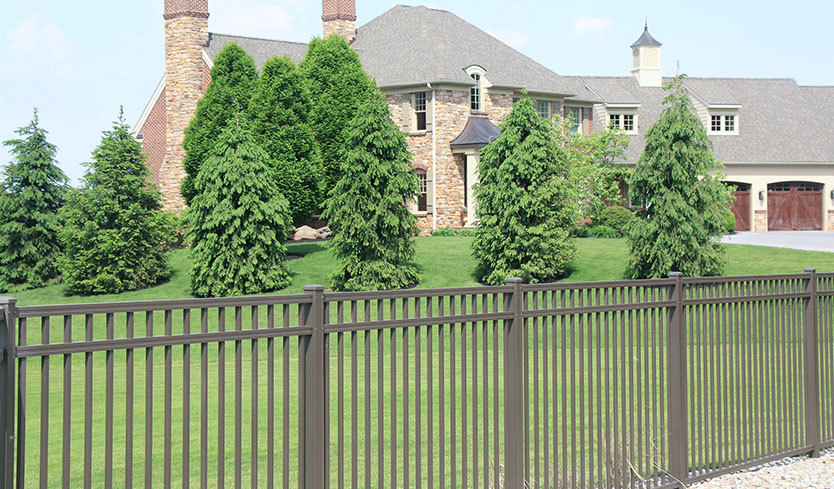 When you're installing a fence in your front yard, its style is crucial. After all, a front yard fence will become a dominant feature of your home's curb appeal. Fortunately, there are more varied — and equally jaw-dropping — styles than ever before. To help you find the perfect match for your home, we're highlighting some standout front yard fence ideas!
At GreenWay Fence & Railing Supply, we're a fencing specialist that builds several lines of deluxe vinyl fencing, and we also stock the leading aluminum fence brands. So, if you're looking to bring a fence to your front yard that enhances the look of your entire house, you're in the right place. Explore some of our favorite front yard fence ideas and find the one that's right for you!
Fence Designs for Front Yards
Building a front yard fence makes practical sense for many different homes as it allows you to make your yard just as secluded and comfortable as the back. A front yard fence can be especially important for families that live along busy roads or have young children. Check out our fence designs for front yards and find the one that's right for you!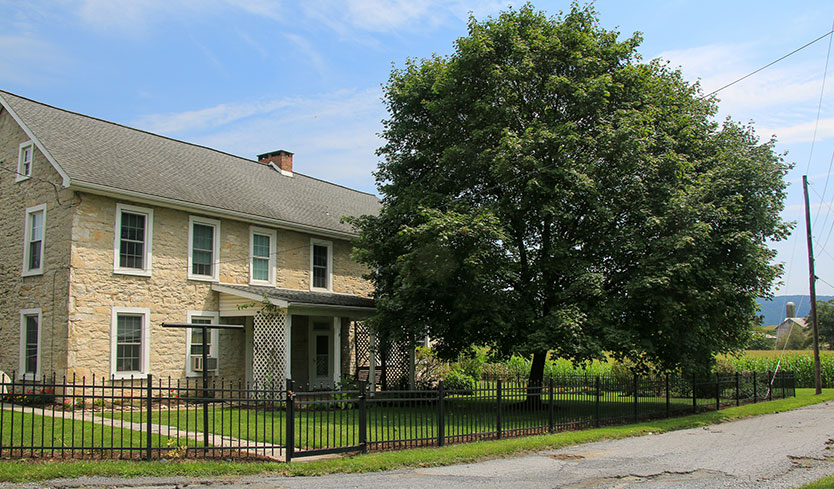 Simple Black Aluminum Fence
Sleek, simple, and strong aluminum fences can be the perfect choice to sit out front of your home. When it comes to fence designs for front yards, aluminum models like this are an exceptionally good option due to their fairly unobtrusive profile. This is great as it allows you to still enjoy the view from your front yard. Finally, the black shade of this design is stylistically versatile to the point that it looks appropriate with most housing materials from stone, to vinyl, and more.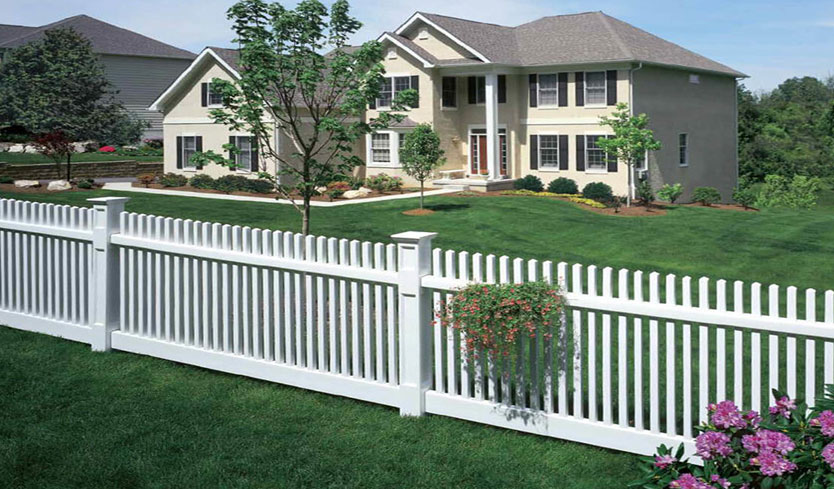 White Picket Fence
Once upon a time picket fences were synonymous with suburban neighborhoods, and this front yard fence idea harkens back to that. While the timeless look of a white picket fence enhances any yard, it looks especially great when matched with a tan, gray, or brown home. You can also select a wide variety of picket fences that have decorative options like attractive top rails, unique spacing, special post caps, and much more.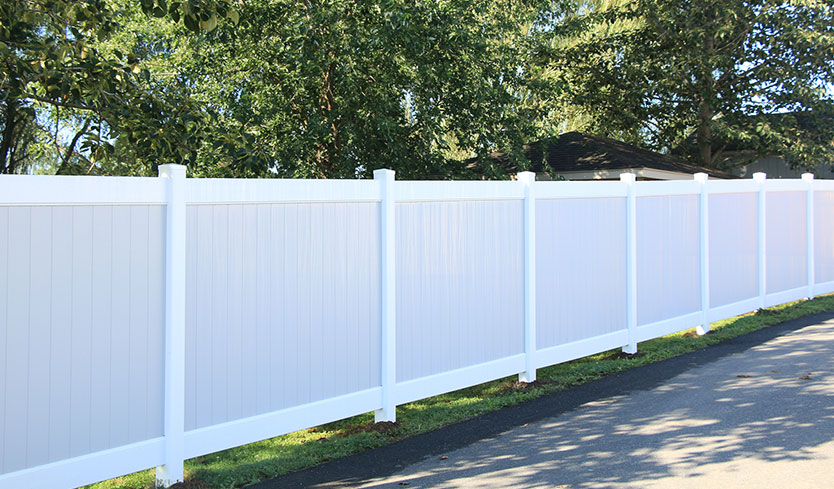 Two-Tone Vinyl Privacy Fence
This model line is one of the signature fences that GreenWay manufactures. These attractive privacy fence options can be a beautiful and security-oriented yard fence idea for your home. These full coverage privacy fences make it nearly impossible for anyone to see into your front yard. And since they are so large and feature full, unbroken panels, the look can risk becoming a little monotonous. That's why the two-tone color scheme (with complementary frame and panel colors) is a popular choice. When designed and placed right, your best security fence can also be a style showstopper!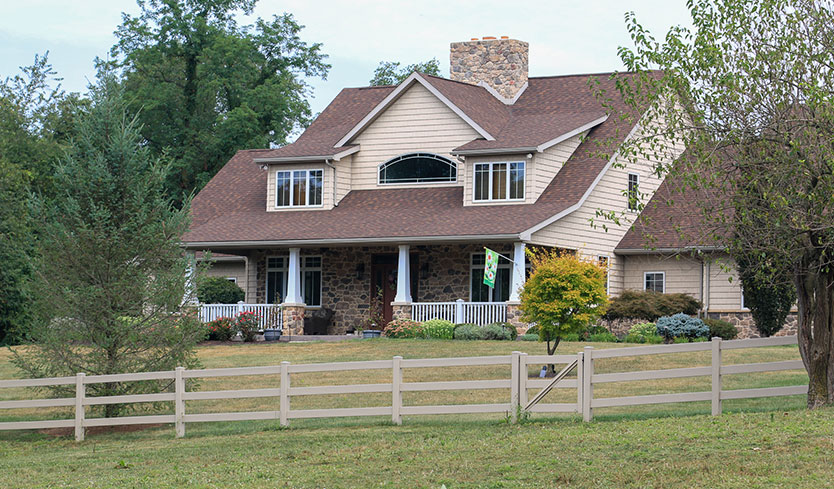 Rustic Style Vinyl Rail Fence
This fence design for yards brings a rustic, country sensibility to your cul-de-sac. Our rail fences mimic the look of the wooden split rail fences you'd see on farms or on the prairie, but they're made of low-maintenance vinyl rather than raw wood. If you have a farmhouse style house, this can be the perfect fence for the job. From a practical standpoint, these rail style fences are great for leaving your front view unobstructed, but they won't do much to keep a pup corralled in your yard.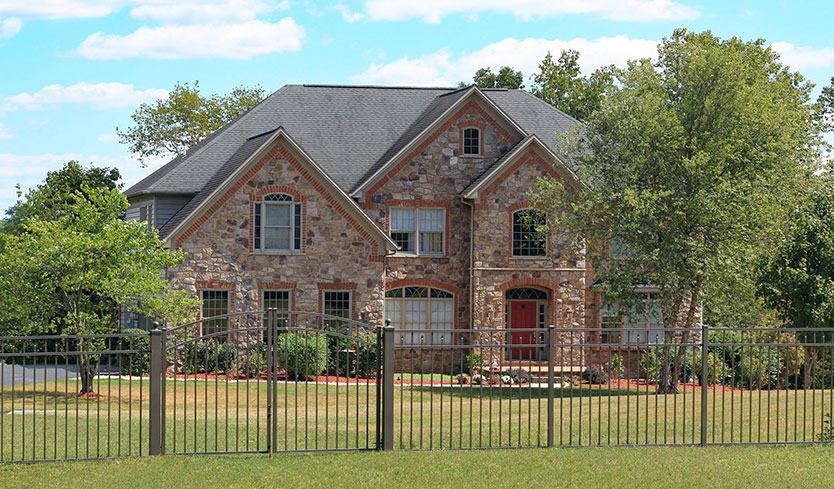 Bronze Aluminum Fence with a Gate
While black aluminum fences have become a fast favorite when bringing this material to your front yard, they aren't the only aluminum fence making style headlines. Although there are a wide range of different aluminum fence colors, bronze aluminum fences are one of our favorites. The color looks exceptional and matches everything from white vinyl siding to unique colors like blues and greens all the way to gorgeous brick houses and much more. Bottom line: this is a smart and attractive front yard fence — for everyone who wants something a little different! See our pick for the best aluminum fence brand.
Maintenance-Free Comes Standard
These five different fence designs for front yards showcase different aesthetics and provide varying levels of privacy. However, you can count on ANY of these fences to last 50+ years without needing to be re-painted, re-stained, or maintained in any way! While wooden fences are known to fade, splinter, and rot over a decade in the elements, every single one of these synthetic fences (aluminum or vinyl) will stand up to the elements. The most maintenance you'll need to do is washing down the vinyl fences of any dirt and grime once a year or so.
Bring Your Front Yard Fence Ideas to Life
Your creativity and unique sense of style can make your new fence the crown jewel of your curb appeal — and we'd like to help make that happen. If you want to bring these front yard fence ideas to life, the first step is to reach out to our team to discuss your options and get quotes on all of these products and more.