Attractive Privacy Fencing Options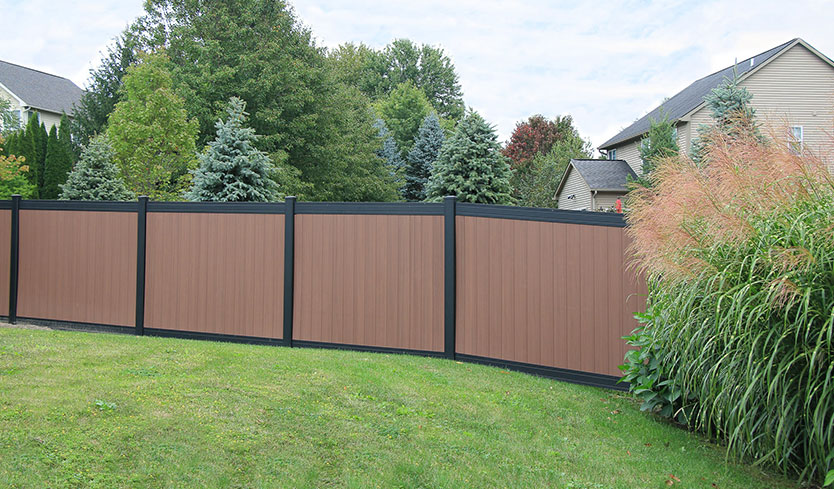 You need a new fence to keep your yard feeling private — but you don't want to sacrifice the backyard style you've created. Fortunately, you don't need to compromise! At GreenWay Fence, we build attractive privacy fencing options that keep your yard completely free from prying eyes. The fence that makes your yard safer and more secluded can also make it more beautiful, too.
In today's blog, we're highlighting a few of our favorite product lines of attractive privacy fencing. Check out some of these projects and see if any fit your style. If you're ready to start shopping right away, you can reach out to talk to our sales team or visit our Lancaster, PA showroom!
Stylish Privacy Fences You Need to See
All of our outdoor products are designed to be both practically effective and elegantly beautiful — that holds true for our stylish privacy fences, our sleek deck railing, and everything else we craft. A good privacy fence will keep out the neighbors' eyes, while providing an extra touch of elegance to your yard.
Fulton Privacy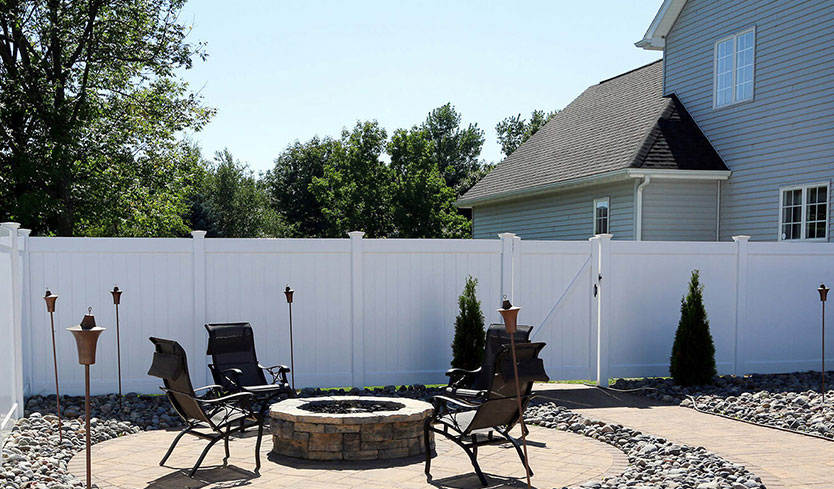 The simplest and most popular example of attractive privacy fences are made of tall, non-see-through vinyl panels. These clean and elegantly simple fences are extremely effective at blocking line of sight and can work with almost any outdoor look. One of the most popular aesthetic choices is to pair the shade of the vinyl fence to match or complement the siding color of your home.
Learn more about the best fence colors for each siding color.
Fulton Privacy with Curved Top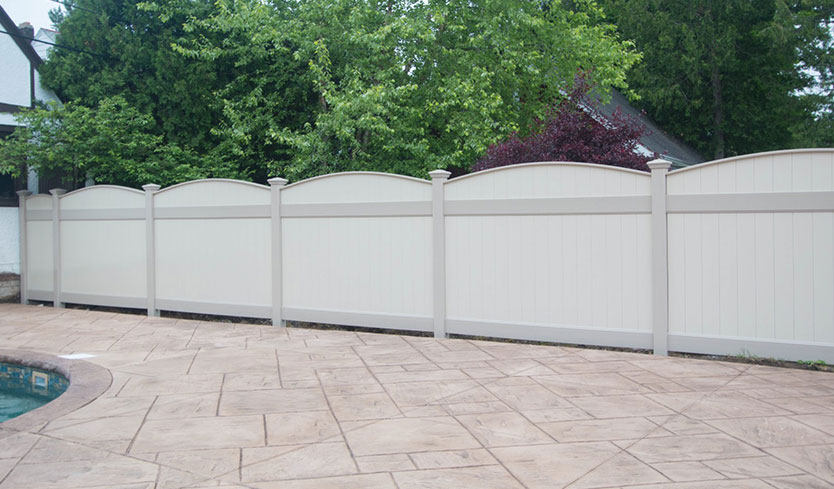 Effective privacy with an elegant profile, this type of fence adds a distinct curved top on a standard vinyl privacy piece. This product line makes a simple look even more interesting with a single change. We also offer the curved top vinyl privacy fence in a striking two-tone variation.
Ontario Privacy with Lattice Top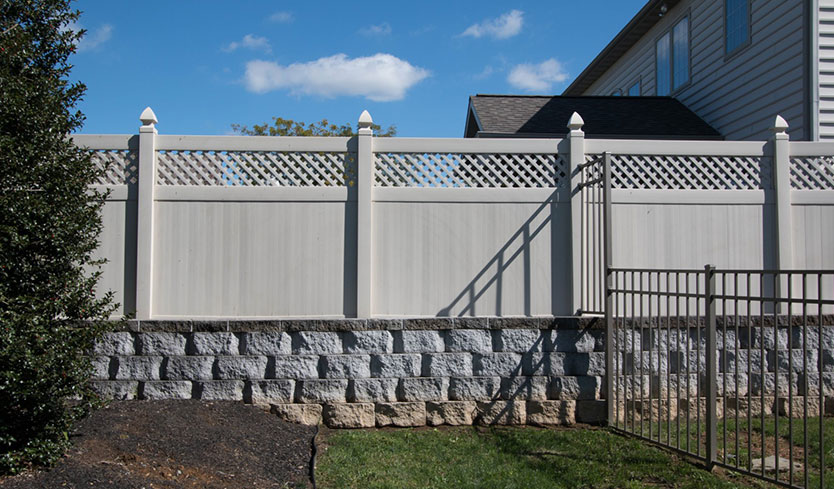 This stylish privacy fence stands out first and foremost thanks to the unique lattice top that makes up the top rail. This is a contrast to the traditional solid top that comprises other fences. This fence line can also be used to feature a bold color contrast between the panels and the framing.
Fulton Privacy with Franklin Concave Top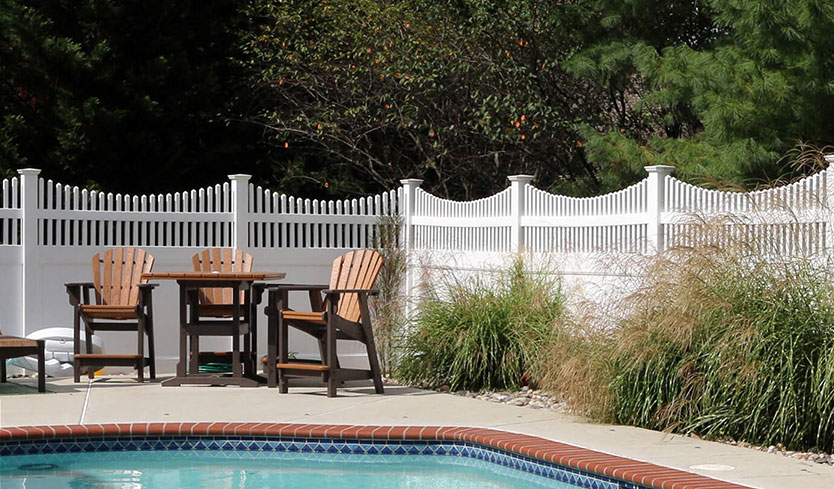 A true showstopper, this piece of attractive privacy fencing promotes seclusion and is an eye-catching addition to any yard. The unique top profile features pickets in a concave pattern, making for a truly interesting piece of visual design. This line also has the potential for interesting color combinations. In fact, the most popular style of this line features a tan privacy panel contrasting against the clean white frame and top.
Hamilton Vinyl Picket Fence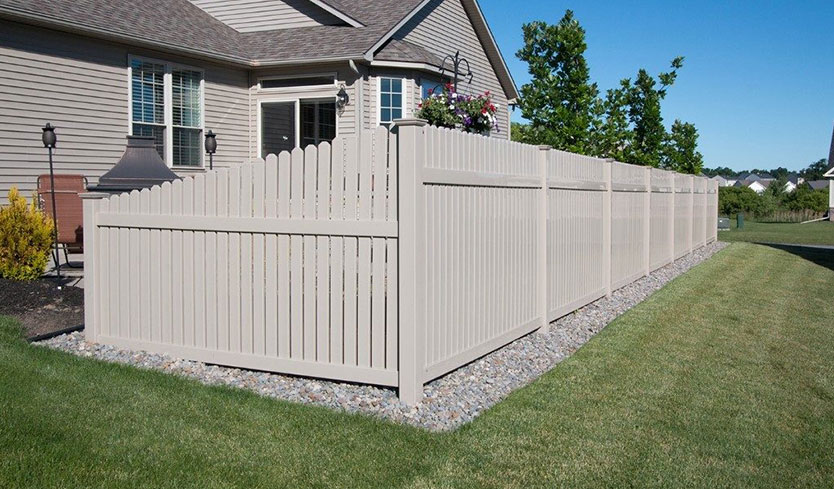 While pickets don't normally serve as a solid privacy option, this fence is an exception. Since the pickets of this model are placed closely together, it can do enough to block the line of sight into your yard. While it may not be as effective as a full panel privacy fence, it more than does the job. This type of stylish privacy fence also gives you the ability to accessorize your yard with the classic suburban look of a picket fence.
Fulton Vinyl Privacy Fence with Aluminum Top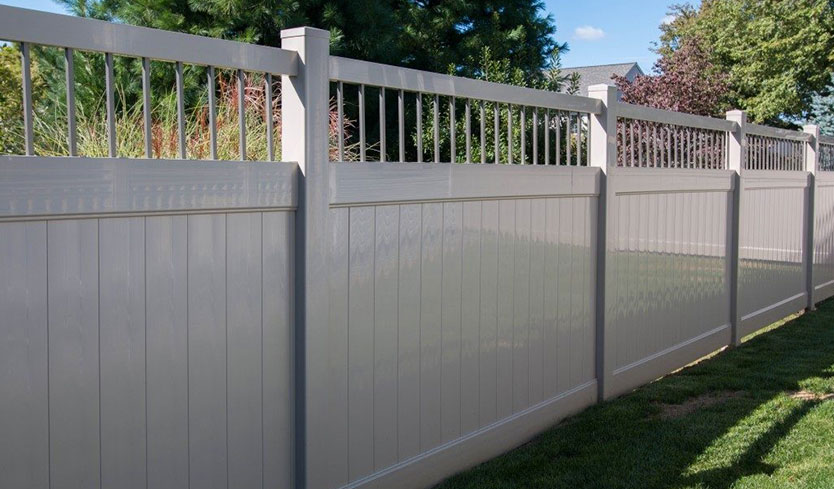 A simple fence with a unique touch. This line of stylish privacy fences expands on the standard design by adding aluminum spindles to the top rail. While these open spindles can potentially provide some visibility, homeowners love them as they provide the top rail with a distinct profile. From a color perspective, these aluminum spindles can also be used to contrast against the panel and hardware colors.
Wondering what these fences cost? See average prices right here.
100% Custom Work is Available
Are you committed to attractive privacy fencing but still haven't seen anything perfect for you yet? This is just the beginning! As a fencing manufacturer, we have the ability to craft a custom privacy fence that matches your unique sense of style.
Building completely unique fences from the ground up is something that we do for both homeowners and contractors alike. We'd love to have a conversation about your vision and the custom privacy fence that can bring it to life.
Looking for more inspiration? See some of our gorgeous designer fences!
Get Quotes on Attractive Privacy Fencing
Attractive privacy fencing will both keep your yard secluded for your family while enhancing the look you've worked to build. If you like one of our product lines and want to bring one home, you're in the right place. We sell our fences directly to homeowners and can even give you some tips on installation. However, if you don't want to tackle the DIY project, we can absolutely recommend a great contractor in your area.
Reach out right now to ask us any questions you may have and to buy your stylish privacy fence!