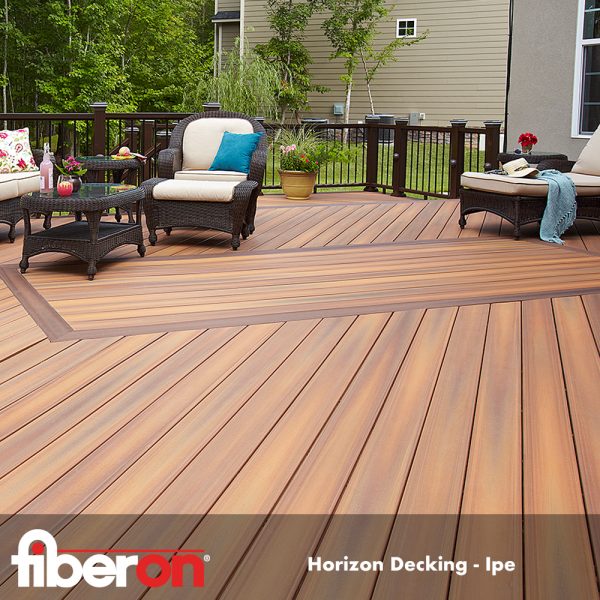 Fiberon Composite Decking
Beautiful from start to finish
If you haven't seen today's composite decking, you're in for a treat. Fiberon® capped composites capture the warmth and beauty of natural and exotic hardwoods, complete with subtle streaking, varied grain patterns and rich color palettes. And since capped composite decking doesn't fade or degrade like wood, the look you love today will still be there tomorrow.
Longer lifespan, lower cost of ownership.
The average pressure-treated deck can cost thousands per year to maintain and will need replacing before you know it. Fiberon composite decks average less than $50 in annual maintenance costs. Plus, Fiberon offers an industry-leading stain and fade and performance warranties, so you can buy and build with confidence.
Safe for your family, safe for the environment.
Fiberon composite decking contains recycled plastics and lumber mill scraps – enough to prevent 70,000 tons of waste from reaching landfills and incinerators each year. Unlike wood, our composites prevent further deforestation. Plus, they are free of toxic chemicals and manufactured using sustainable processes.
Fiberon Decking Supplies
Discover high-performance, low-maintenance decking that suits a busy lifestyle. Made from durable PVC, Paramount is a great choice if you're looking for something lightweight with excellent slip esistance. Paramount deck boards are wood free, eliminating the potential for mold growth and making them ideal for docks and other waterside applications.
Lightweight, easy-to-handle boards.
Resists moisture, dents and flames.
Offers exceptional slip resistance when dry or wet.
Exceptional Quality
Free time was meant for rest and relaxation, not power washing and deck staining. Fortunately, Fiberon® decking is incredibly easy to maintain. No more Saturdays spent sanding or re-staining your deck or paying someone else to do it. Our patented PermaTech® cap layer protects against spills, stains and UV rays, while the solid composite construction means no splintering, cracking or rotting. Wood decking simply can't compare.