Exploring Vinyl Lawn Fence Styles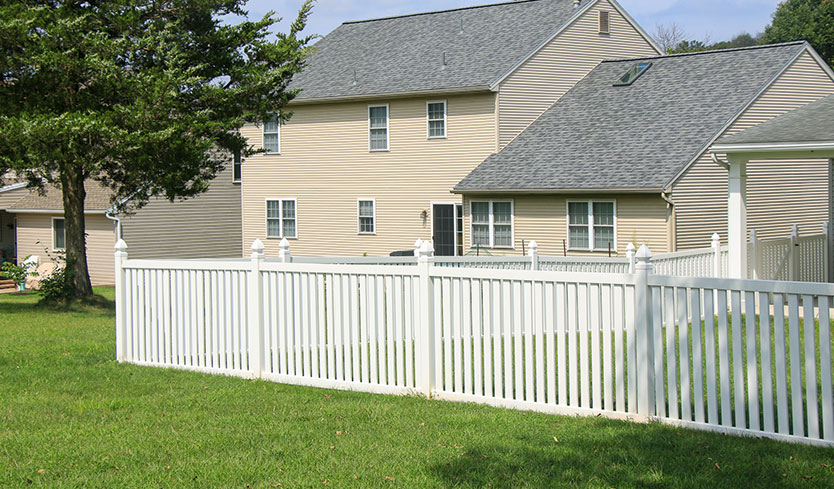 Due to their low-maintenance advantages and gorgeous style, vinyl fences are one of the (if not the most) popular fences across the country. Whether you're replacing a worn-out wooden fence or need a new fence after building a pool or adopting a puppy, you'll love the look and the advantages. There are many different vinyl lawn fence styles that enhance your home curb appeal while keeping your yard protected.
At GreenWay Fence & Railing, we're a vinyl fence distributor who specializes in building a unique line of gorgeous and practical fences. To help you find your favorite lawn fence style, we're showing off our leading product lines and highlighting what makes them standout. Keep reading to get inspired — or reach out to our team to get prices!
Yard Fence Options: Easton, Columbia, Cayuga, New York, & More
While we also craft a line of vinyl rail fences, picket fences, and attractive privacy fences, our yard fence options do a unique job. We define yard fences as models that are built in the popular panel style meant to offer beauty and security — but not privacy. A standout answer for fencing around a pool or corralling a new pooch, our yard fence options come in a variety of styles that we're showing off here: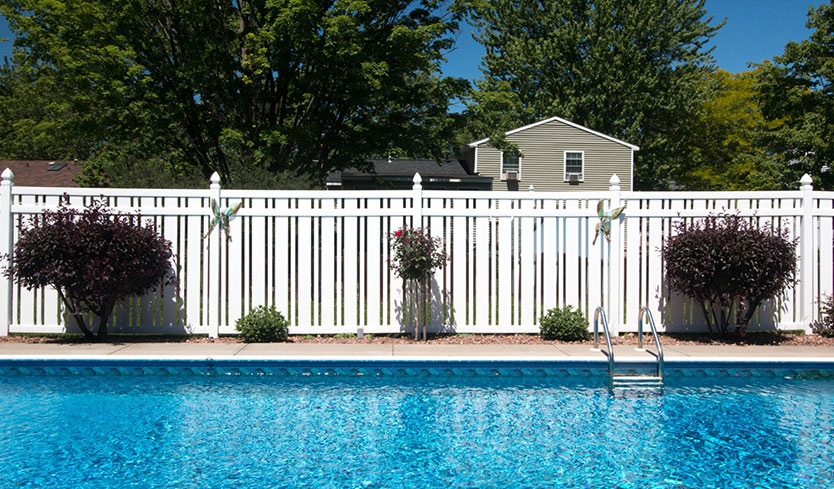 Easton
This vinyl lawn fence style brings an eye-catching aesthetic that can stand out in comparison to other fences in the neighborhood. The Easton grabs attention in large part due to the unique pattern that alternates between a thicker picket and a thinner one. The posts of this model are completed in a solid triangle point.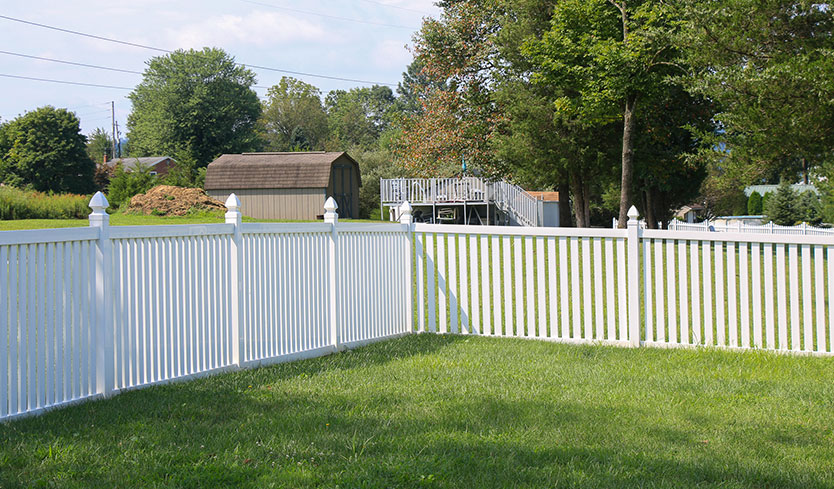 Columbia
The definition of elegant simplicity, the Columbia provides an effortless look that makes it a great match for almost any space. This straightforward feel comes from the pickets all being the same size as well as the stylish post caps.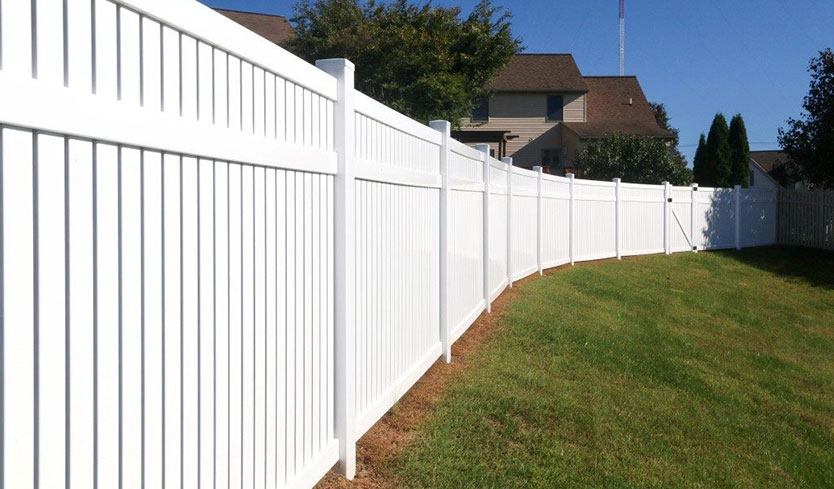 New York
This yard fence option is very close to one of our privacy models. While there is a small gap between the fence pickets, it is small enough that you will have unrivaled seclusion in your backyard, without opting for a full privacy fence. The New York lawn fence style is a popular solution for homeowners who want to stay unseen but aren't sold on the look of the more traditional fence options.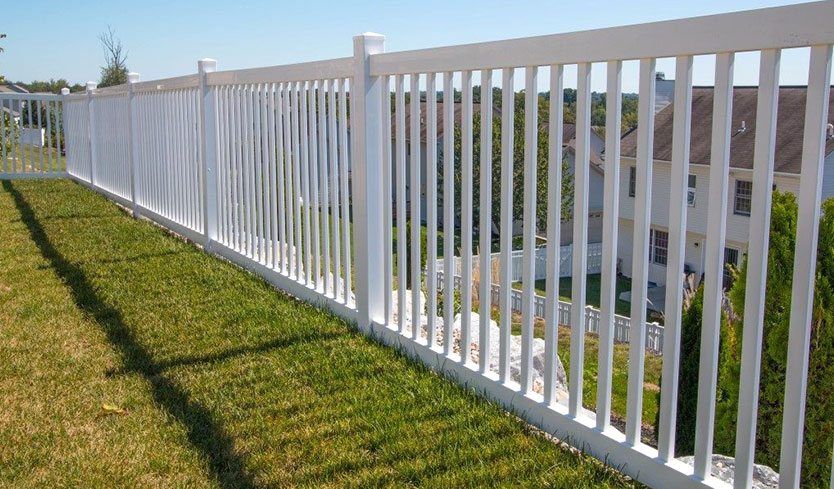 Cayuga
If your yard has a stunning view that you want to be able to gaze at — while still enjoying the benefits of a fence — this sleek profile is right for you. Thanks to the ultra slim pickets, the Cayuga is designed to provide maximum visibility without compromising security. The Cayuga line offers many of the aesthetic benefits of aluminum fencing, but in vinyl!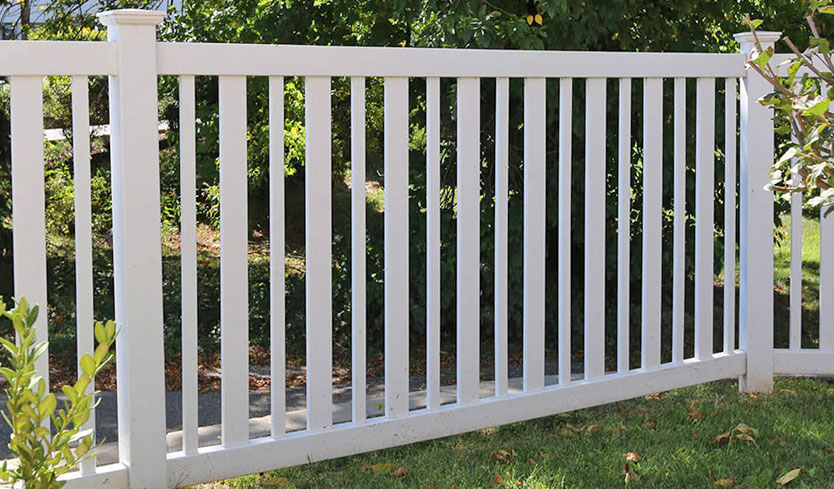 Cortland
Perfect for formal spaces like rose gardens or around suburban homes, the Cortland brings a distinct upscale look. Alternating a medium thickness picket with an ultra-thin one, this creates an attractive look that homeowners love. While the visibility may not be as good as the Cayuga, this fence still leaves an attractive view mostly intact.
Looking for upscale options? See more luxury garden fencing models!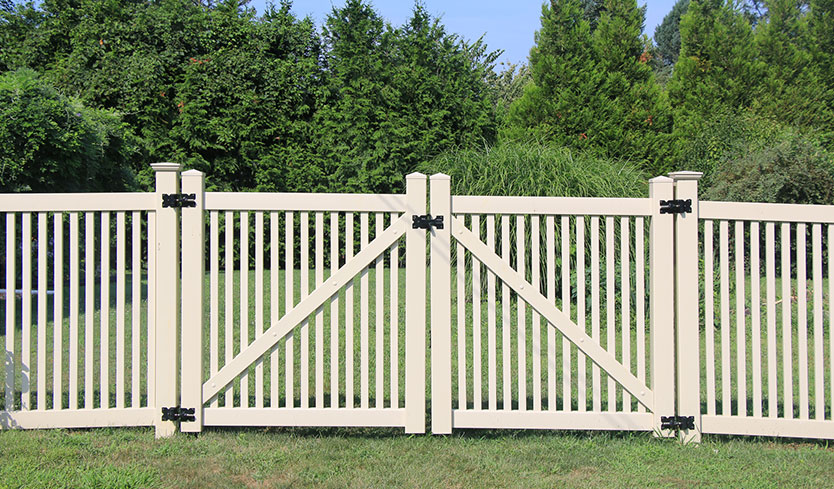 Sullivan
Another versatile vinyl yard fence option, the Sullivan is a solid choice for almost any type of home. As is the case with the Caygua, the Sullivan's slim pickets provide great visibility — while keeping your yard secure and your pool legal.
All of these yard fence options are available at 36", 48", 60", and 72" in three vinyl colors. Like all of our vinyl products, these fences will never need heavy maintenance to prevent growing rot or mold — and they will last 50+ years!
Consider Aluminum Fences from GreenWay
While our yard fence options are some of our most in-demand product lines, they are only the beginning when it comes to your selections for low-maintenance style and security. We also offer lines of aluminum fences for sale that provide many of the same deluxe benefits as vinyl fences with a distinct look. Here's why you should consider aluminum fences:
Huge Range of Colors — You might not know this, but you can choose from a range of impressive fence colors from black, to bronze, white, and more.
No Maintenance — Similar to vinyl fences, you'll never need to worry about re-painting or re-staining the fence. In fact, if you choose a dark color aluminum, it won't show dirt and you won't even have to clean it!
Extremely Sleek Look — Just like the Cayuga, aluminum fences provide exceptional yard security while leaving a beautiful view unobstructed.
Long Lifespan — Once again, you can count on this synthetic fence material to last a lifetime without problems!
Get Prices on these Lawn Fence Styles
If one of these lawn fence styles caught your eye, we'd love to help you bring it to your backyard. At GreenWay Fence & Railing, we sell directly to homeowners for DIY fence installation, but we are also happy to recommend a contractor in your area. The first step to completing your project is reaching out to talk to our team today!