The Best Fence Colors for Each Siding Color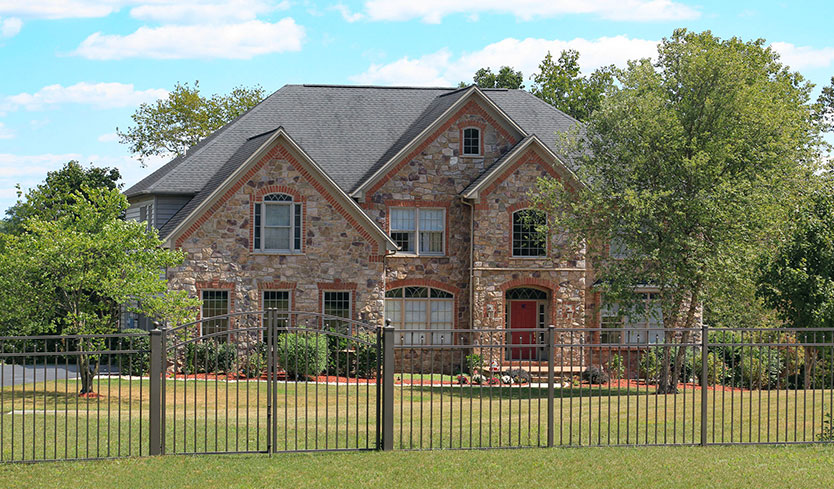 One of the most influential yet most overlooked curb appeal x-factors is having your fence color match your home siding. This key touch can elevate an attractive home into a magazine-worthy look. In today's blog, we are going to point out our favorite fence color ideas that can fit your home, no matter the siding or building materials.
Fortunately, at Greenway Fence and Railing Supply, we're a fencing distributor that makes it simple by offering a wide variety of fence colors that are sure to fit any home or style. We believe fencing can not only add privacy to your property, but it can wow your neighborhood, too. Keep reading to see the best fence color combinations that you can use — or feel free to reach out to our outdoor experts to start shopping!
Our Favorite Fence Color Ideas
One of the main ways that you'll find the best fence color is by matching it to the color of your house. These are our picks for top fence color ideas to match the most common home colors:
White Siding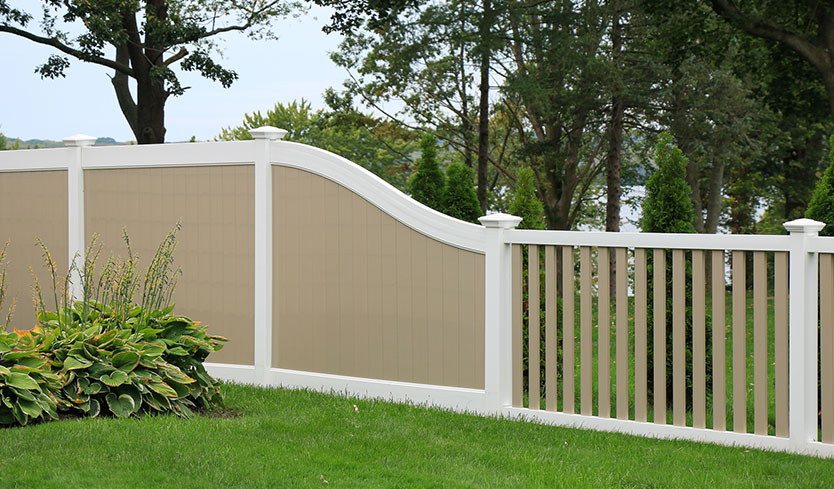 Some of the fence color ideas for white siding we suggest are black aluminum fences and faux wood vinyl fences. At Greenway Fence and Railing Supply, we offer the look and feel of real wood without the high-maintenance hassle that goes with wood. Black aluminum is also an excellent fence color if you are looking for a sophisticated, high-class look that is sure to grab attention in conjunction with your white siding. For those that are hoping to go a little bolder with your fencing colors, we recommend either tan vinyl or bronze aluminum — both of these colors create a look that truly breaks-the-mold!
Tan Siding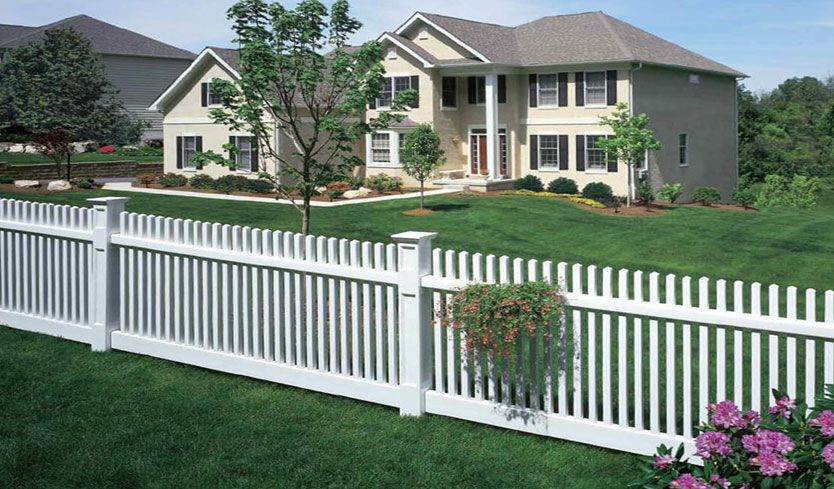 For those with either stucco or tan vinyl siding, our favorite fence colors are black aluminum and white vinyl. While tan siding can go with almost every color, both of these classic fence colors create a standout curb appeal. The white vinyl fences creates a very timeless suburban aesthetic that would fit in neighborhoods all over the country. On the other hand, the combination of clean tan and black aluminum creates an exclusive, upscale style.
Blue or Green Siding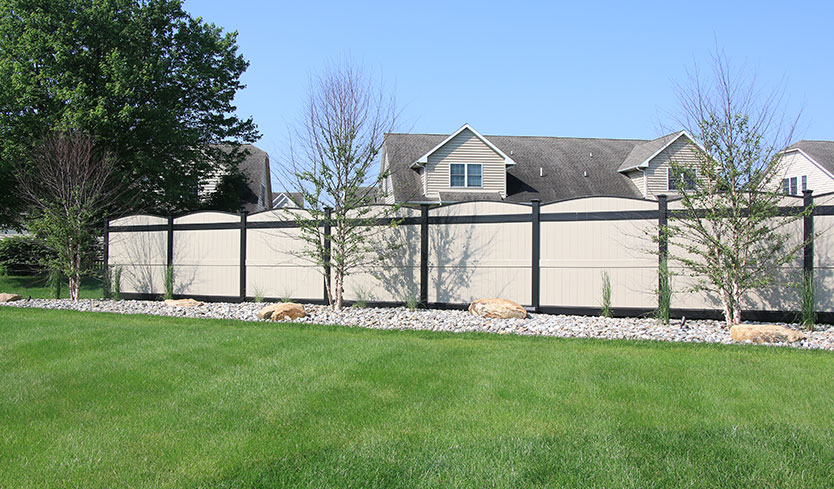 For these bolder siding options, we suggest going with a simpler approach for your fence colors. Because you have already distinguished your exterior home style with your siding choice, go with a subtle color like white or grey for your fence. This will help to tie in your siding to the rest of your home without the colors being too overwhelming.
Dark Siding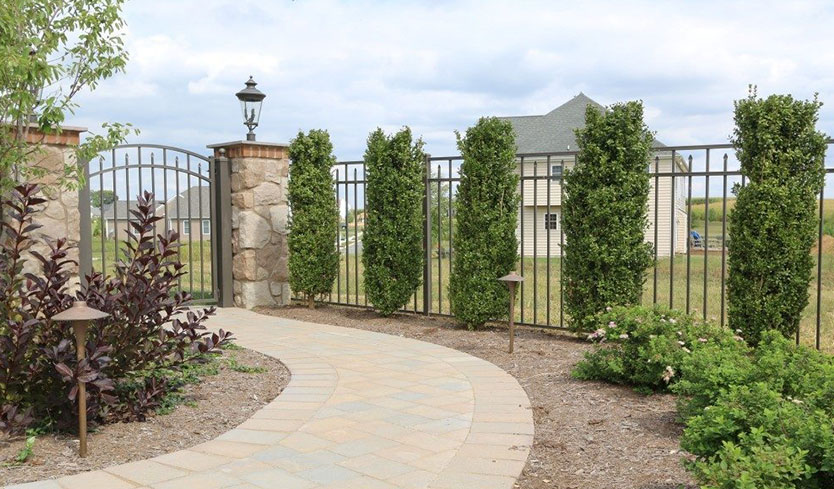 Perhaps slightly less common than other colors, designing well for dark palettes is crucial. Darker siding colors also give you the option to be pretty flexible with your fence color options. We suggest going for something equally dark like black aluminum to help create a modern feel for your home. If you want a truly unique fence color, try bronze aluminum to add a unique twist on your darker siding that is sure to spark attention.
Brick House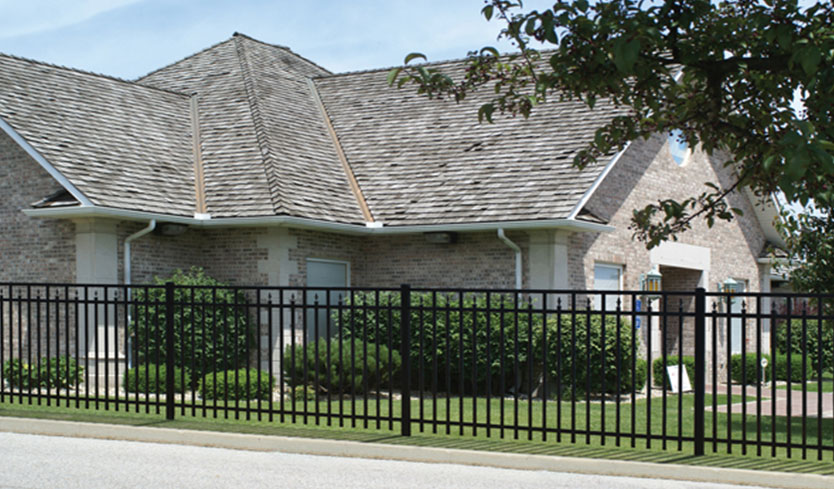 For those who want to accentuate the style of your brick home, there are still many fence color ideas for you. Because brick houses have such a great classic look, our favorite fence colors are traditional colors like white or black. This will continue to showcase the best features of your brick home while adding a touch of something new to your home's exterior.
The Many Color Options of Vinyl and Aluminum Fences
Back in the day, the only fence color options for vinyl or aluminum fencing were white and black. To this day, many people carry the misconception that those are the only fencing color options if they select a vinyl or aluminum fence. That could not be further from the truth!
Greenway Fence and Railing Supply offers a wide variety of aluminum and vinyl fencing color options. In addition, as more bold designs and fence color ideas become more common, new fence colors are hitting the market all the time. Bottom line: no matter what color fence you have in mind, you can trust that Greenway Fence and Railing Supply has the fencing materials to make it happen.
See some of our favorite designer fences!
Contact Us Today to Explore the Fence Colors We Offer
Greenway Fence and Railing Supply has years of experience crafting superior fencing products that are practical and aesthetically pleasing. In addition, we also stock products from other leading fence manufacturers as well. That's why we're the go-to place for both DIY homeowners and expert contractors alike. If you are looking for help finding decking and railing materials, we supply them as well. Once you're ready to start building, we're ready to help. Contact us today to get a free quote on your best fence colors!