Fence Inspiration You Need to See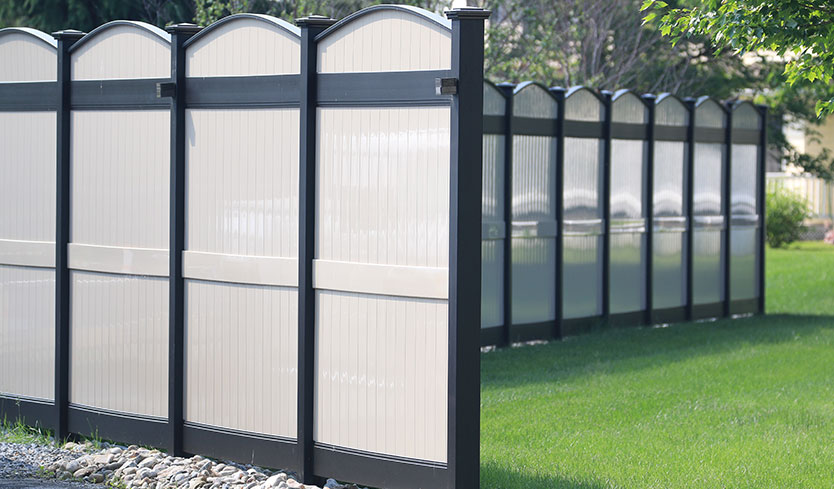 Forward-thinking exterior designers are embracing fences as a key way to build a distinct outdoor style. With more colors, materials, and features than ever before, we think it's time for a little fence inspiration! At GreenWay Fence, we want to show all of the homeowners and amateur designers out there just how beautiful a fence can really be.
While fence styles can be plain, they certainly don't have to be. Today there are more styles, bolder color combinations, and even more attractive designer fences than ever before. Plus, at GreenWay Fence, we have the ability to custom build a fence that is the exact match for your style. If you're looking for some fence inspiration, you're in the right place — find your style and get a custom quote!
Gorgeous Designer Fences
The designer fences we're featuring in this blog don't just look fantastic, but they're ultra-low maintenance, too — which makes them super easy for homeowners to own. So, whether you're a homeowner updating your outdoor look or a contractor keeping your design eye competitive, this is all the fence inspiration you need.
Modern Custom Top Aluminum Vinyl Fence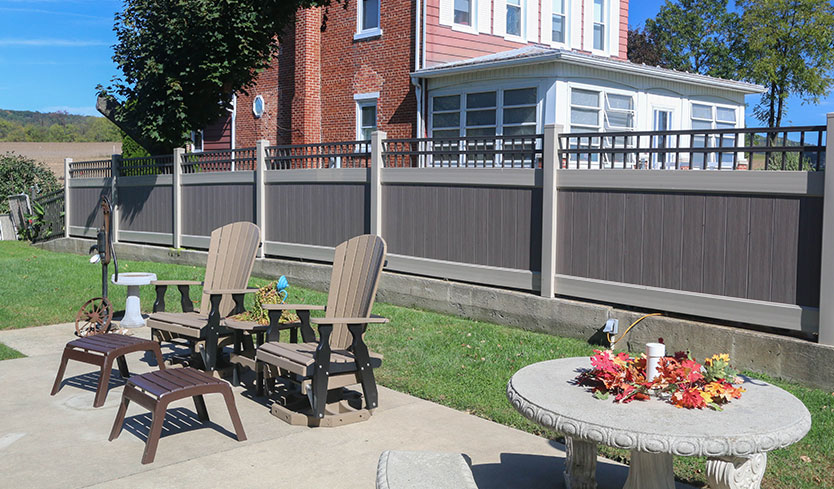 A fence built to epitomize the modern style, this two-tone piece features a dark grey panel paired with a lighter frame. Plus, the decorative aluminum top rail adds an eye-catching extra touch. Also notice how the cool color scheme of this designer fence matches well with the homeowner's patio decor.
Custom Swoop Aluminum Fence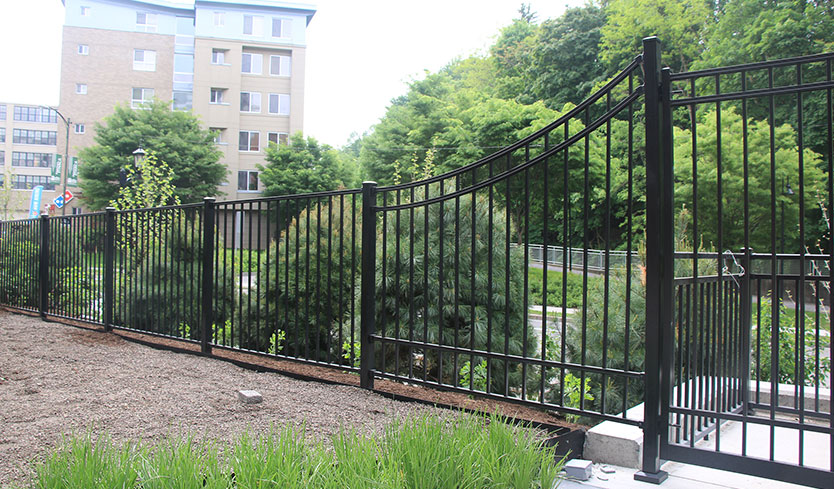 Fence inspiration for those who appreciate the simple things. A classic black aluminum fence with a noticeable custom touch. See how the rail curves upward to meet the height of the gate. This timeless fence was a great choice to sit against the backdrop of the cityscape.
Custom Tan and White Picket Fence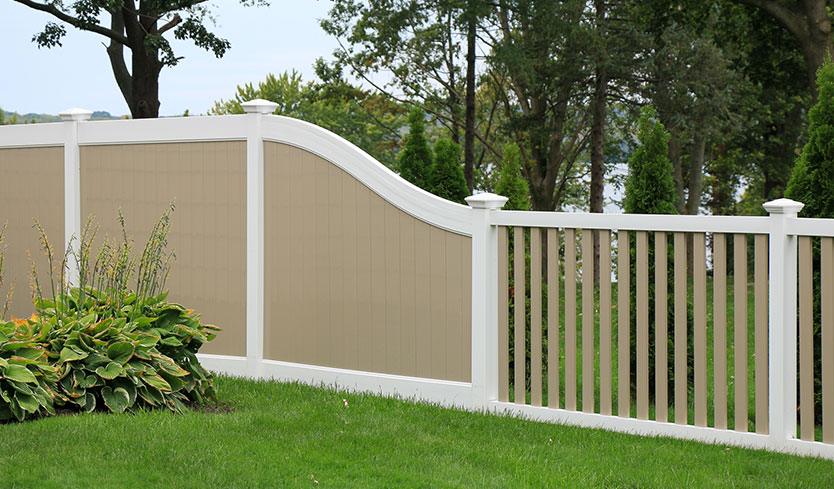 This custom fence is 50% privacy, 50% open — and 100% clean outdoor style. Notice how this designer fence features a white vinyl frame with both tan pickets and privacy panels. This attractive color combo also proves to be an exact match to the backyard shed.
Two-Tone Designer Fence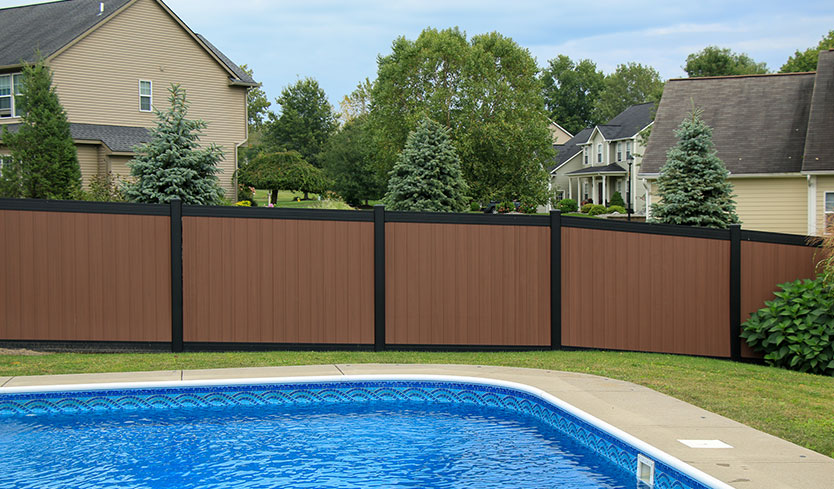 Complete privacy and a gorgeous color profile. This two-tone designer fence pairs a rich wood grain vinyl panel with a slim black frame. This fence completely blocks the view of the in-ground pool while offering a totally unique look. You can guarantee that no one else in this neighborhood has a fence quite like this!
Rounded Top Privacy Fence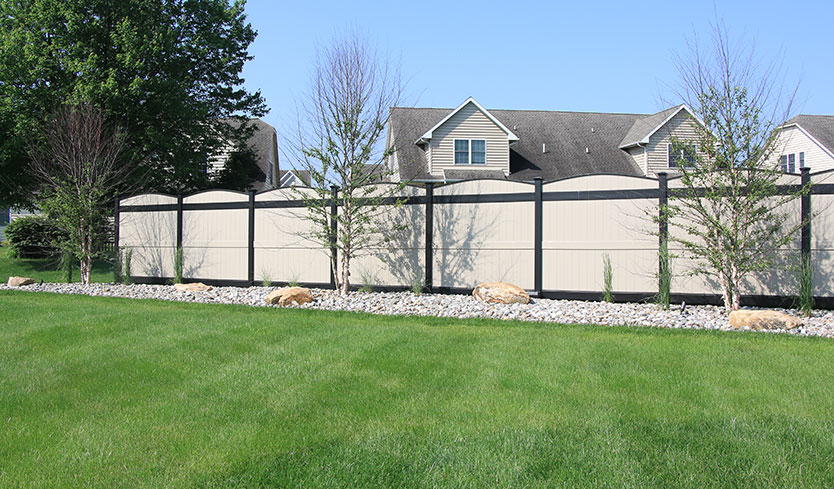 A beautiful privacy fence with a simple, yet modern look. These solid and tall vinyl panels provide a true sense of backyard seclusion. From a style perspective, the popular black and tan color scheme is a match with numerous types of contemporary exteriors. In addition, the unique profile of the rounded fence top is sure to stand out!
Split Rail Vinyl Fence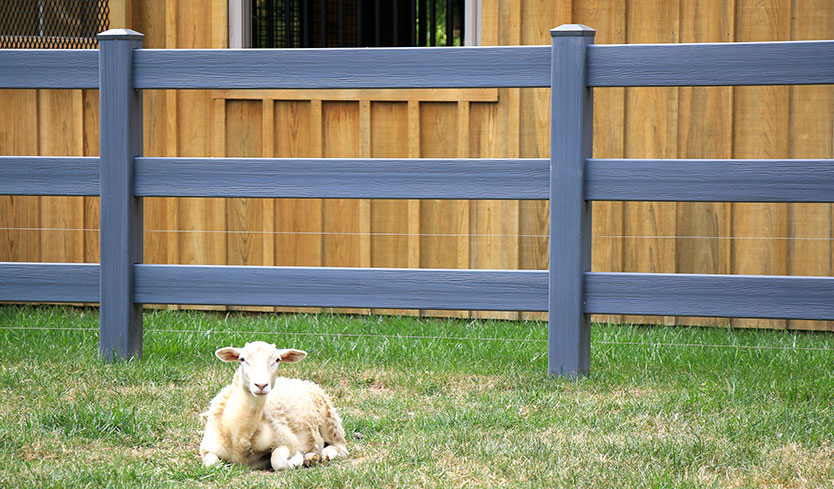 Some fence inspiration for all of the hobby farmers out there. This designer fence has the exact look of an antique split rail fence you'd see on farms all across the country — just with the modern advantages of vinyl. In addition to the classic split frame style, you can even see a faux wood grain on the vinyl pieces.
Need even more designer fence inspiration? See our project gallery.
Other Benefits of Deluxe Fences
Vinyl and aluminum fences have earned huge popularity in recent years because they are easy to own — and they look absolutely gorgeous. While the amazing looks get people's attention, the practical benefits are what truly make them a great choice. These are the 3 main benefits of these upscale designer fences:
Ultra-Low Maintenance — Both vinyl and aluminum fences are extremely low maintenance products. While wooden fences need repainted and re-stained to keep from rotting, both vinyl and aluminum options are immune to that. All you need to do is periodically wash them to keep them looking their best.
Extremely Long Lifespan — These two designer fence types also have a super long lifespan, easily lasting for several decades.
Increase Property Value — Since these fences are in-demand and will keep their great condition, having one can increase your property value when you're ready to sell your home.
More Fence Inspiration, In-Person
If you're looking for even more fence inspiration or you're ready to take the next step, you may want to consider visiting our Lancaster County showroom. During your visit, you can discuss your project, your style, and your budget with our fence experts. In addition, you can also see and feel samples that give you an idea of the GreenWay quality.
Contact us today to get pricing — or to get directions to our showroom!