Composite Decking Color Options & How to Choose the Right One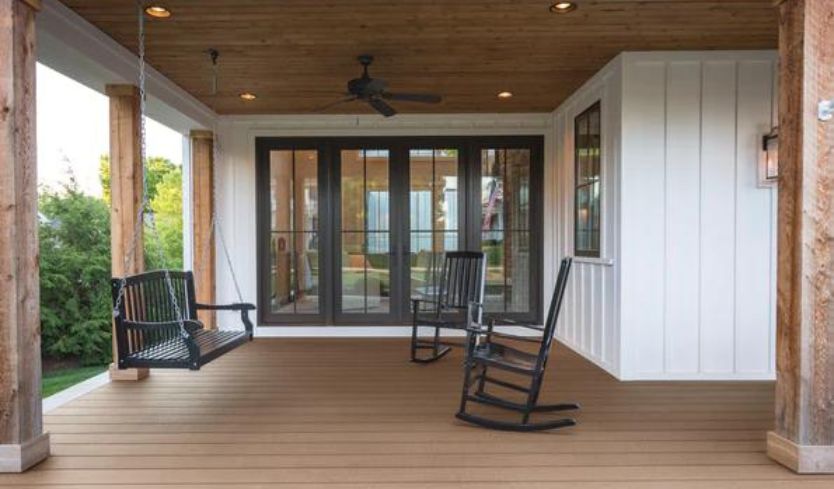 One of the most exciting steps in planning your deck makeover is choosing the color and style of your boards! But without guidance or research, this fun opportunity can quickly turn into a drastically dreaded decision.
For that reason and many more, the experts at Greenway Fence & Railing have created a guide to composite decking color options! By the end of this short article, you'll not only be introduced to some of the most adored colors on the market, but you'll discover how to choose the deck color that's best for you, as well.
Keep reading to learn more – or contact our team for personalized color evaluating assistance!
Modern Vekadeck & Fiberon Deck Colors
Getting the best and longest-lasting composite decking colors starts with choosing the right brand and materials. At Greenway Fence, we're proud to be a dealer of both Fiberon and Vekadeck for homeowners and contractors all around the eastern United States!
Whether your style is modern, rustic, classic or contemporary, you're sure to fall in love with one of these deck color options.
Best Fiberon Deck Colors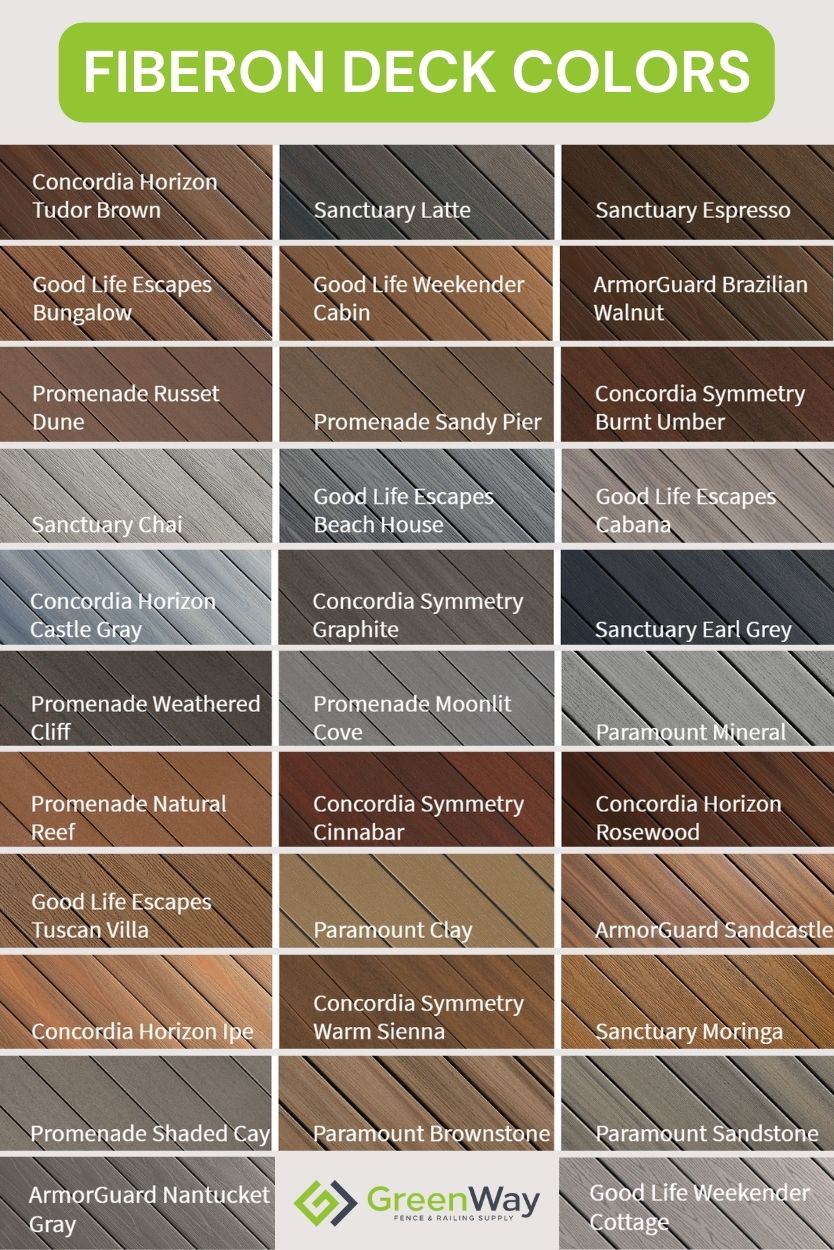 Fiberon deck colors are organized into four categories: golden browns, reddish browns, classic browns, and grays. Within each category you'll find anywhere from 3-11 unique shades, for a grand total of 32 gorgeous composite deck color options to choose from! In today's modern market, some of the most popular Fiberon deck color options fall within the cool gray family, Paramount Flagstone and Good Life Weekender Cottage to be specific. If warmer tone composite decking colors are more your style, Good Life Escapes Tuscan Villa or Concordia Symmetry Burnt Umber are fantastic options!
Fiberon deck colors are just the beginning of the endless design possibilities and practical conveniences the brand brings to the backyard. Known and loved for their 25-year warranty, products made from recycled materials, and family-first approach, Fiberon has been a part of the industry for over 25+ years – and we've been proud to be a distributor of ALL their deck color options for years, as well.
Learn more about Fiberon's weather-resistant decking materials, colors and prices when you contact Greenway Fence now.
Vekadeck Colors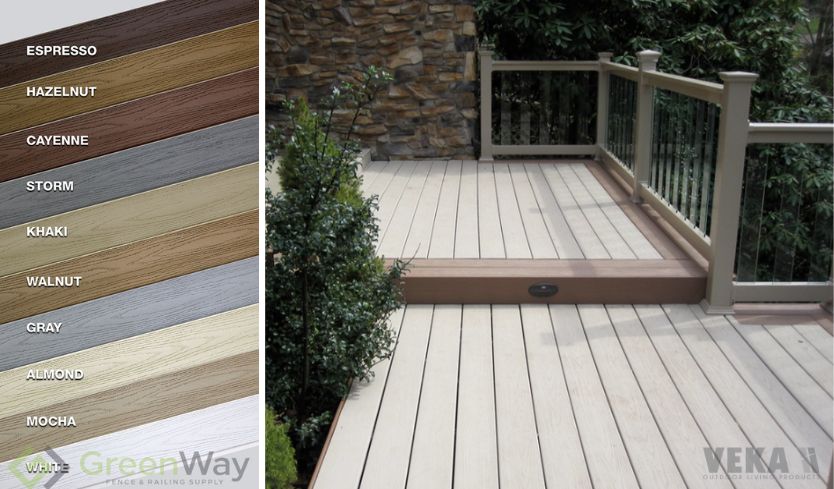 Vekadeck colors are three things: classic, timeless, and oh so unique! Vekadeck color schemes offer certain shades that Fiberon does not, like light Khaki, Almond, White and even Mocha – so if you're interested in a softer hue for your backyard oasis, you may find it here! Although Vekadeck colors fall all over the spectrum, some of their most popular include Storm, Espresso and Cayenne.
Just like Fiberon, Vekadeck is made from recycled materials making it an ideal choice for homeowners, architects and builders who are seeking attractive, high-performance, and ultra-low maintenance decking. Its water and fade resistance keeps Vekadeck colors looking as perfect as the day you got them, even several years down the road! Want to know if Vekadeck's PVC decking materials are right for you? Browse our website or call our team to learn more!
How to Choose a Deck Color for Your Space
Done well, composite decking colors can help to enhance the natural beauty of your outdoor space, complement your home, and add immeasurable value to your property. However, if not carefully planned and executed, the wrong deck color options could leave your backyard looking like more of a mess than a masterpiece!
So, how do you choose a deck color, and how do you make sure it's the RIGHT one?
When figuring out how to choose a deck color, ask yourself these couple of questions:
What color is your home's exterior?
How much foot traction do you expect the deck to get?
Is the deck's area mostly shaded or exposed to the sun?
What color and material of outdoor railing do you want?
How would you classify your personal design style?
The better you're able to know yourself and your space, the more confident you'll feel when it comes to making that final decision on choosing a composite decking color! If you're looking for a COMPLETE backyard makeover, consider reading our blog on choosing the best fence color for your siding shade here – or, contact the Greenway Fence team today for a complimentary color consultation.
Shop Deck Color Options at Greenway Fence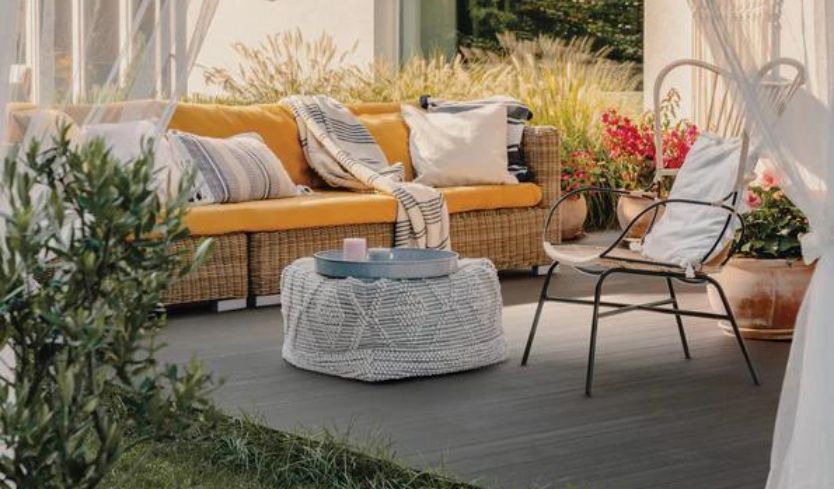 When it comes to helping you explore and decide on the right composite deck color option for your home, no one does it better than Greenway Fence & Railing. With a passion for people and a mission to represent eco-friendly products, our team is here to assist you by providing free price estimates, product lead times, and consultations.
We're honored to bring both Vekadeck and Fiberon deck colors to people in PA, NJ, MD, DE, OH, NY, VA and beyond! Learn more about our company or contact us today to get started designing the perfect backyard deck for you.