Planning Your DIY Deck Makeover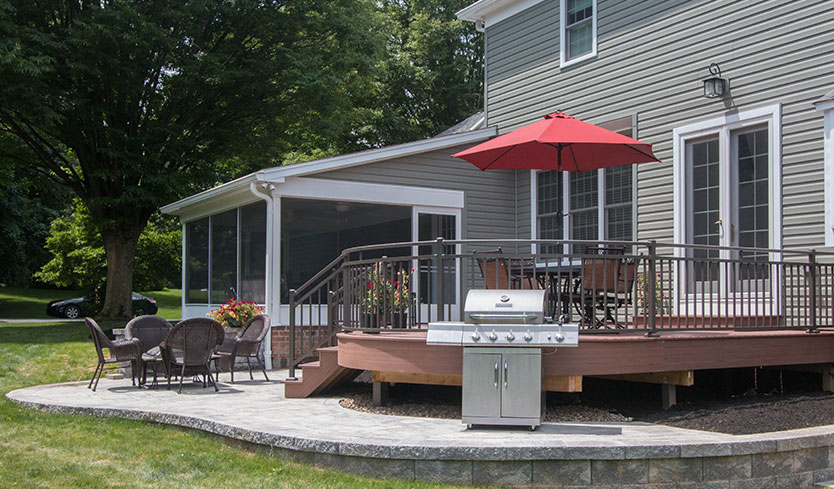 You'd be amazed how the right features, accessories, and upgrades can completely transform your deck into the luxury space you've always dreamed of having out back. Even better, if you're handy, you can tackle all of these changes on your own. So, not only can a DIY deck makeover make your favorite outdoor space into your own personal retreat, but it can seriously boost the value of your home at the same time!
At GreenWay Fence & Railing Supply, we're an outdoor wholesaler that homeowners trust to supply all of their backyard projects. We carry leading brands for all of the materials you need, from deck boards, to railings, and much more. Keep reading for inspiration for your DIY deck makeover — and get prices to order everything you need!
7 Deck Updates to Transform Your Space
The right deck updates make your tried-and-true space more beautiful, more comfortable, and even safer during everyday use! Check out all of these upgrades and find the right one for your space:
1. Improve Railings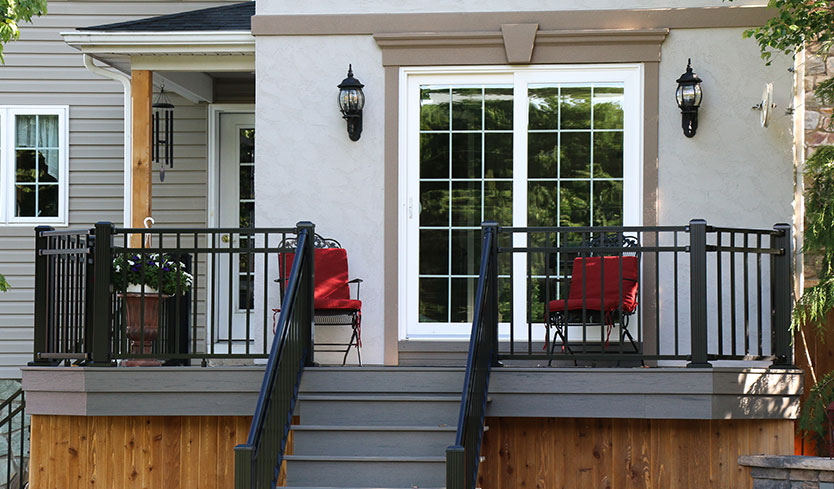 Most old decks often have the original railings that came with them. Chances are, those railings have seen better days. Replacing rotting or peeling wooden railings with a modern choice makes a difference in the overall look. On top of that, a sturdy aluminum or vinyl railing will be much stronger from a safety perspective. Even if you don't make any other deck upgrades, removing the old railings and attaching the new ones can completely change the look and feel of your outdoor living space.
2. Update Furniture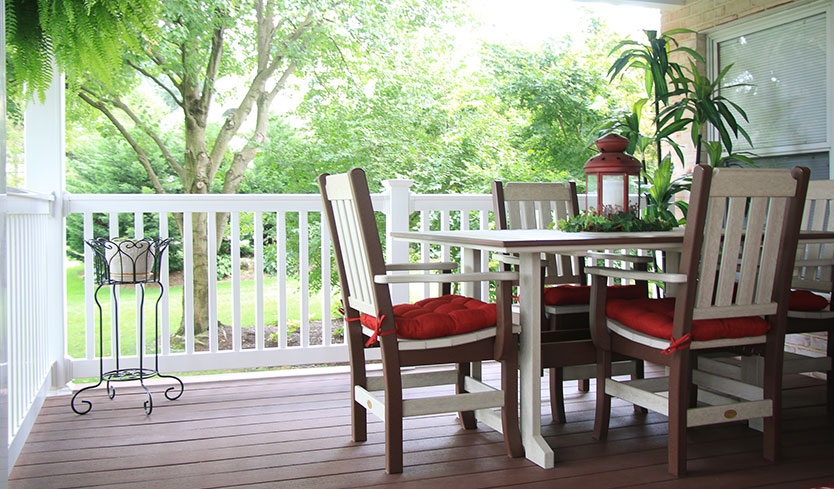 Sometimes the biggest impact comes from something simple. Comfortable, new outdoor furniture can make the hours you spend sitting on your deck more enjoyable and can make your deck look better. Plus, if you replace old, weather-beaten furniture with a stylish poly vinyl furniture set, you'll be able to count on it to last for years out in the elements. When investing in a nice set of furniture, you have countless color choices, from colorful shades to neutral hues.
3. Replace Deck Boards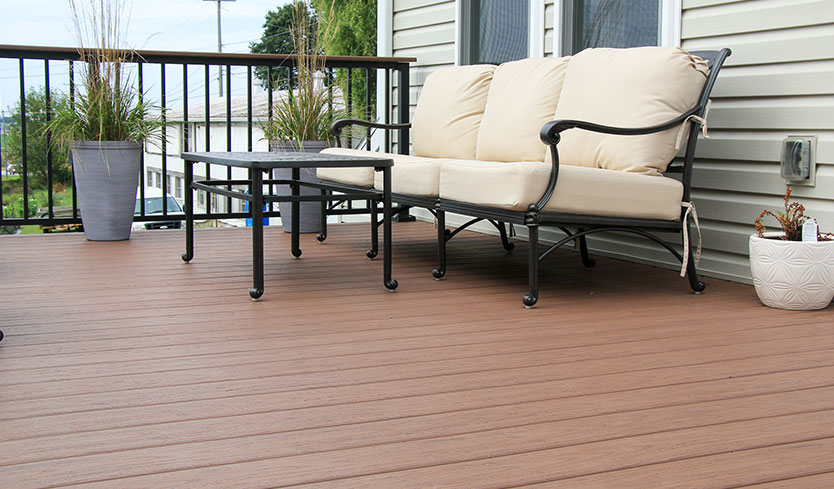 If you have the skill to do it, this may be the single best deck update you can do. By replacing worn out boards with a no-maintenance luxury decking material, you transform the look of your deck and ensure that you never need to worry about re-painting it every other summer. We sell deluxe vinyl and composite deck boards — both of which come in a range of gorgeous hues and will last for decades without needing any type of serious maintenance.
4. Clean the House Siding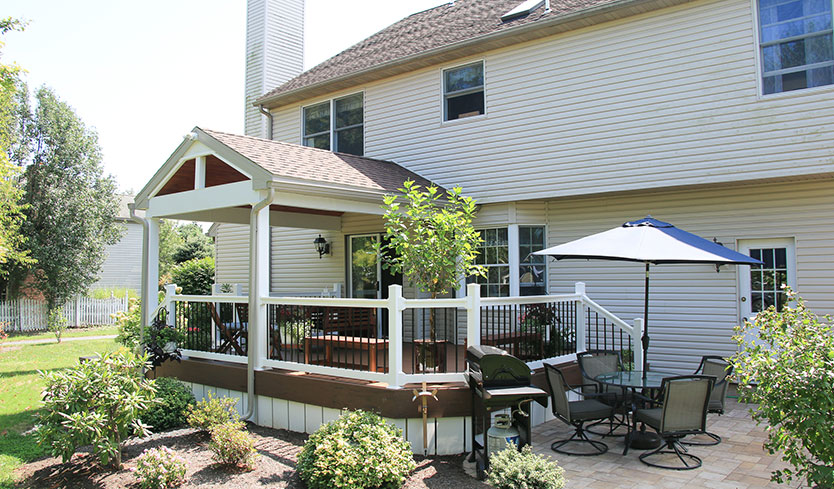 This DIY deck makeover tip doesn't involve working on your deck, BUT it can change the feel of the entire space. Power washing the home siding that faces the deck can make the area feel newer and cleaner. You'll be surprised what a difference not having to stare at dirt, grime, and bugs can make! Plus, this is one of our easiest deck ideas to try, taking less than an hour for most people.
5. Place a Pergola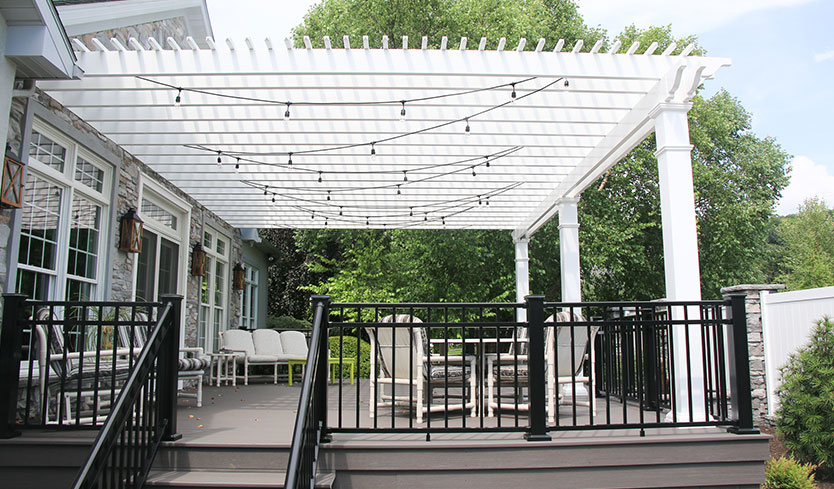 Thanks to the elegant design and shade options, pergolas have become one of the hottest outdoor living accessories on the market. Installing one of these features on your deck adds a unique eye-catching structure, while providing you much-needed shade. Most handy homeowners find that they can build a pergola on a deck in a single afternoon, making this a great deck update to pair with your new deck boards. Our sister company, Garbrella Pergolas, sells easy-to-install DIY pergola kits all over the country!
6. Find a Centerpiece Accessory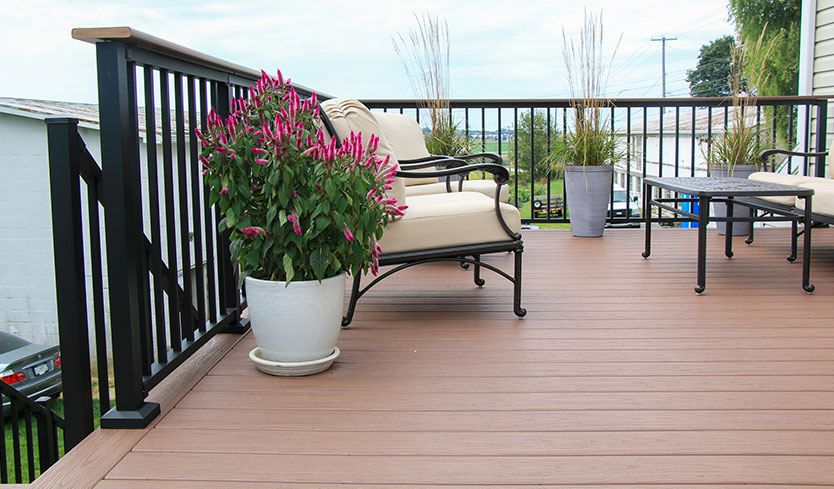 While the centerpiece accessory is different for everyone and every deck, the principle remains the same. You want to bring an accessory that proves to be a conversation starter or provides hours of entertainment on its own. Everything from beautiful planters and greenery to huge waterproof televisions can do the job!
7. Design Your Lighting Scheme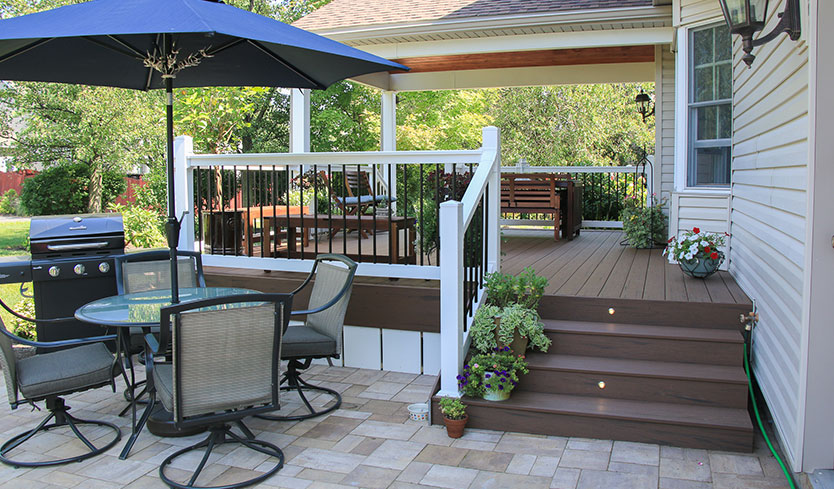 If you plan to get the most out of those late summer nights on your deck, a complete lighting scheme is an important deck update to consider. One of the most popular (and easiest) solutions involves draping either Christmas lights or Edison bulbs around the main seating area. If you're planning to install a pergola, this can be a great home for those lights. Embedding the lighting into your deck boards or railing posts can create an all-around-ambient lighting system that blends in perfectly with the deck itself. We sell multiple lines of railings with built-in LEDs as well as lighting that can be built directly into the deck boards themselves.
GreenWay Means Quality
From deck boards, to railings, and even lighting, we can be your one stop shop to kickstart your DIY deck makeover. While we may offer a large variety of different outdoor living materials and products, there's one thing that our entire inventory shares: quality.
From the products that we manufacture in-house like vinyl fencing and railing, to the products we endorse and stock like luxury deck boards, everything will meet the same standard of quality. Not only is our entire inventory guaranteed to be sturdy and beautiful, but it will be either low-maintenance or no-maintenance. After all, you're upgrading your deck and yard because you want to spend more time enjoying it, not working on it!
Get Prices & Start Your DIY Deck Makeover
When you're ready to launch your deck makeover, the GreenWay team is here to help. If you're still trying to find the style or right product line to match your renovation, we can give you the experienced advice you need. However, if you know what you need, reach out to our team to get prices and to arrange delivery.