Best Decking Material: Wood vs. Vinyl vs. Composite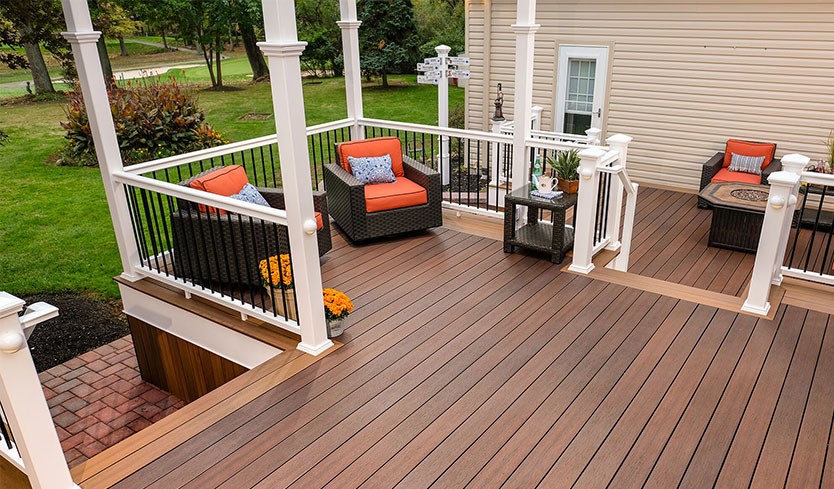 This summer, you're going to grill, you're going to lounge, and you're going to host parties on your gorgeous new backyard deck. There's only one problem: it isn't built yet. When you're in the planning stages of building your dream deck, the first big decision you need to make is what's the best decking material for you.
The three main deck material options you'll see on the market are pressure treated wood, composite, and PVC (also called vinyl). Wood is a more natural product, while composite and vinyl are artificial decking materials. Which one you choose determines the style options, the price, what it's like to own it, and the maintenance you'll need to do to keep it looking great.
At GreenWay, we're dedicated to helping homeowners get the most out of their outdoor spaces. Whether it's fences, railings, or deck materials, we sell it all. That's why we're helping homeowners find the best decking material for their dream-come-true backyards.
Deck Material Options
Wood, composite, and PVC — all three popular deck material options have their advantages. Understanding the differences and advantages can be a challenge, but we've got your back. We're breaking down the pros and cons of each to help our customers find the best deck material.
If you ever have questions, the decking experts at GreenWay are ready to help — contact us today!
Wood Decking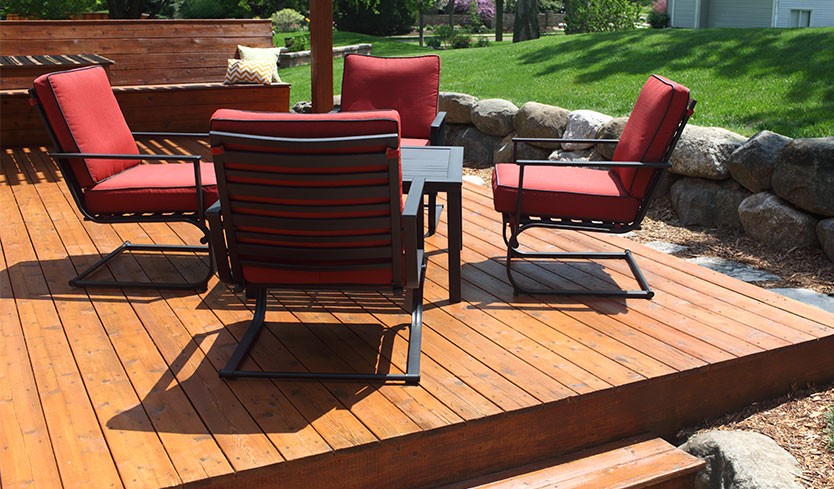 The classic. For decades, ALL decks were built of simple pressure treated lumber, because vinyl and composite hadn't been invented yet. Wooden decking material is by far the cheapest option on the market and will always be popular because of that. However, wooden decks are susceptible to rot, mold, insect damage, and splintering. In order to keep those problems at bay, you'll need to re-paint or re-stain your wooden deck every summer. Based on their price point, though, wood decks can be the best decking material for some homeowners.
It is important to note that many times in the long run, a wood deck will cost more than a composite or PVC just because of the cost of the maintenance required.
Pros:
Can be painted or stained almost any color
Comes at an unbeatable price point
Cons:
Needs yearly maintenance
Can give you splinters
Has a shorter lifespan than the other two options
Composite Decking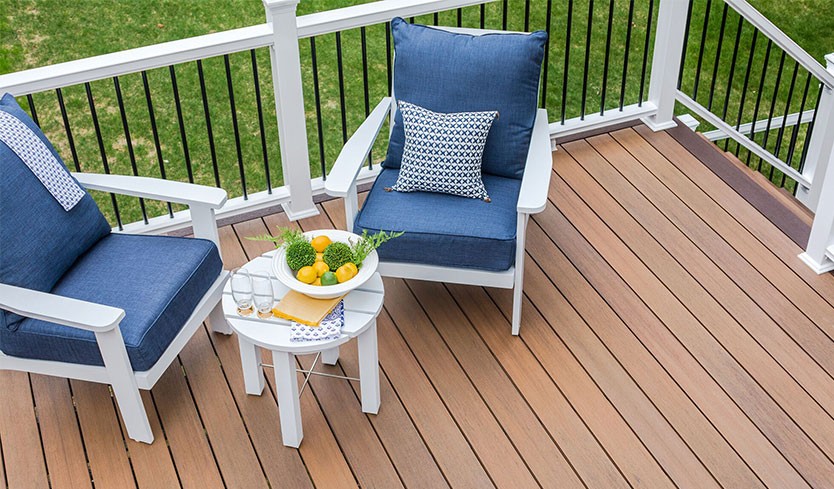 Since composite decking looks similar to traditional lumber, the wood vs. composite decking comparison comes up fairly often. However, that similarity is just on the surface as composite decking boasts a ton of artificial decking material advantages that make it easier to own. For example, composite decking doesn't splinter, and it NEVER needs re-painted or re-stained to prevent mold and rot. In addition, composite decks will never splinter either. These maintenance-free advantages make this a popular deck material option.
Unfortunately, the composite deck boards themselves are somewhat sensitive to being scratched from daily use and to fading in direct sunlight. As far as price is concerned, the composite decking we sell is right in the middle of the costs for wood and vinyl. Not all composites are equal though. For a composite board to last, it needs to have a good cap to protect the recycled material in the core of the board from swelling and rotting from moisture that may enter.
Pros:
Has a look similar to real wood
No re-painting or staining required
Long lifespan
Won't rot or grow mold
Cons:
Deck boards can be scratched or chipped accidentally
The colors show fading from the sun
PVC Decking Material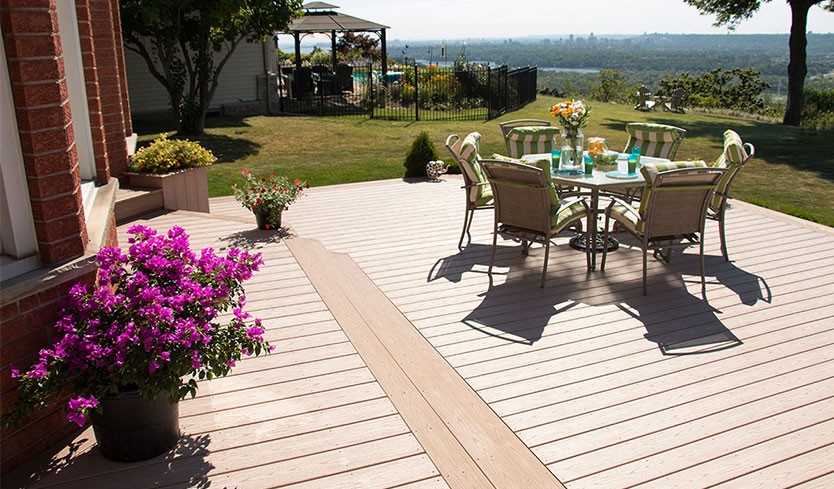 Quite possibly the best decking material on the market, vinyl boasts all of the maintenance-free advantages of composite with a distinct luxury look and feel. Vinyl decking comes in a variety of color shades, including a beautiful wood-grain pattern for rustic designs.
When comparing artificial decking materials, PVC comes out on top as the deck boards that are less susceptible to the scratches that damage composite boards. Plus, while any material left in the sun will show fading, vinyl is also better protected against color fading than composite. All of these advantages do come at a price though — vinyl is the most expensive of the deck material options on the market.
Pros:
Gorgeous, upscale look
No re-painting or staining required
Long lifespan — backed by a lifelong warranty
Won't rot or grow mold
More resistant to color fading
Completely water resistant
Cons:
Learn more about our line of vinyl decking.
Wood vs. Composite vs. Vinyl Decking: Our Pick
There are pros and cons for each of these deck material types. When you're the one buying, you have to balance the price you'll pay up-front, if you're okay doing maintenance year-after-year, and the outdoor decor you like best.
All three of these can be the best decking material for anyone based on their needs, their budget, and their sense of style. However, we tend to recommend PVC decking as our preferred material choice. Homeowners have told us time and time again that they prefer the look of vinyl compared to that of composite — and that not ever having to re-paint or re-stain the deck makes the extra up-front investment worth it. Plus, vinyl decks will give you a WHOLE lifetime of lazy Sunday afternoons and backyard barbecues — the lifespan of vinyl decks also offsets the up-front cost.
Whether you choose PVC or Composite Decking we have the top brands to pick from and have the best warranties to back them up.
Explore our photo gallery to see our gorgeous decking in real projects.
The Best Deck Material Installed by a GreenWay Preferred Contractor
Now that you've found the best deck material for your project, the next step is to figure out how the deck will be built. Whether you want to take a DIY approach or work with a contractor, GreenWay is your outlet for the best decking materials — at very competitive prices.
If you do need a contractor recommendation, contact us to find a GreenWay preferred contractor to complete your backyard space.
Start the conversation today to buy your deck boards or to find your local contractor!