Explore Essentially Maintenance-Free Railings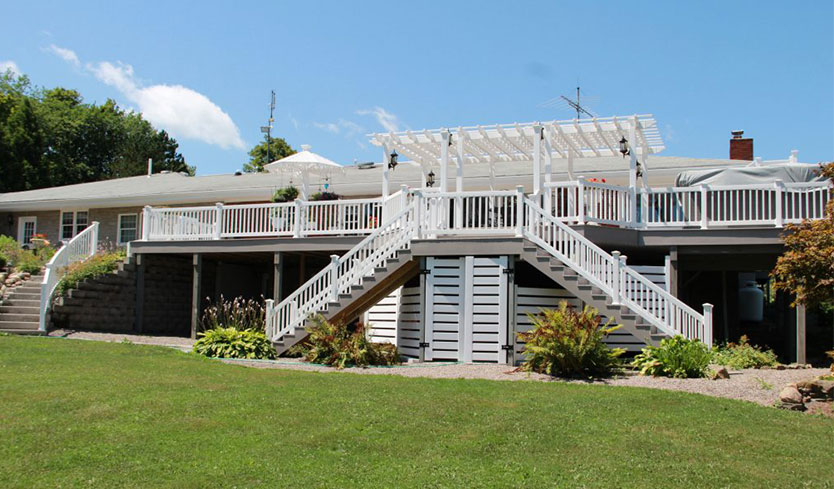 If you're like many people, then your deck or patio is your favorite place to go to relax after a long day — or to entertain guests. When doing a DIY refresh on your outdoor space, upgrading to luxury railings can enhance the space's style while cutting the amount of work you'll need to do. Check out your options for essentially maintenance-free railings.
At GreenWay Fence & Railing Supply, we build and sell a wide range of outdoor products, from fences to pergolas, arbors, and even railings. Specially built of vinyl or aluminum, all of our products are designed to be essentially maintenance-free. We say "essentially" because even though our pieces will last a lifetime without maintenance, they can always use a little light cleaning to keep them looking their best. See our picks for the best basically maintenance-free railings — or reach out today to place your order!
Your Choices for Low-Maintenance Deck Railing
When it comes to finding a low-maintenance deck railing, you can't go wrong with vinyl or aluminum. Both of these deluxe materials offer an outstanding style paired with the low-maintenance convenience you want. Either of these two options are exceptional — and we're breaking down the advantages of each and showing off the styles:
Vinyl Railings
Like our signature vinyl fences, our low-maintenance vinyl deck railings look amazing and are incredibly easy to own. Find out what makes this material a top choice for homeowners:
Clean and versatile vinyl style
Will never rot, grow mold, or rust
White, brown, and tan are the most popular colors
Glass options for ultra-modern looking balusters are available
Generally less expensive than aluminum options
Last a lifetime
Unlike a wood deck railing which will need re-painted to keep from cracking apart or growing mold, these railings can last a lifetime without any hard work on your part. The only work they will ever require is washing them with soap and water to keep them looking clean. From a style standpoint, the smooth and elegant vinyl goes well with the outdoor décor of almost every deck and patio. Plus, since vinyl fences are some of the most common style fences for homes to have, these low-maintenance deck railings may be the perfect match for the fence you already have.
Aluminum Railings
At GreenWay Fence & Railing, we proudly sell Westbury aluminum railings as our most maintenance-free railing option. While this material is popular for many reasons, here's what you need to know:
Black, white, and bronze are the most popular colors
Will never rot, grow mold, or rust
Dirt doesn't show on black or bronze-colored railings
Glass options for ultra-modern looking balusters are available
Last a lifetime
These sturdy and sleek railings look fantastic protecting a staircase or a deck. Just like the low-maintenance deck railings in vinyl, these aluminum choices will never require the painting or staining that wooden options do. In addition, on darker colored aluminum railings, dirt won't show, which means you might never need to wash them. Plus, the ultra-slim profile of aluminum is the number one choice for a modern aesthetic.
Either of these choices for low-maintenance deck railings are fantastic — which is why we gladly offer both. You can count on aluminum and vinyl alike to look fantastic and to last a lifetime without needing any real maintenance.
Need fences? Check out our maintenance-free fencing options!
Offering Everything You Need for Your Outdoor Refresh
While essentially maintenance-free railings are the focus of today's blog, and are a great place to start your outdoor renovation, they're just the tip of the iceberg from GreenWay Fence & Railing Supply. To help complete decks and patios, we sell high-quality deck boards as well as outdoor lighting solutions and pergolas.
See our favorite outdoor lighting solutions.
To complete your entire yard, we sell fencing, gates, flowerbeds, arbors, and much more. Ultimately, when you want low-maintenance material presented with true design style, you want GreenWay.
Get Prices on Essentially Maintenance-Free Railings
Are you attached to aluminum, or more drawn to vinyl? Either way, we have the supplies you need! At GreenWay Fence & Railing Supply, we sell our elite products to both homeowners and professionals alike. So, if you want to enhance that deck or patio you love, you're in the right place. When you're ready to get started, we encourage you to reach out to discuss your options and to get prices on our essentially maintenance-free railings.
Contact us today to start the conversation and complete your backyard.