6 Outdoor Lighting Ideas: Built-In and DIY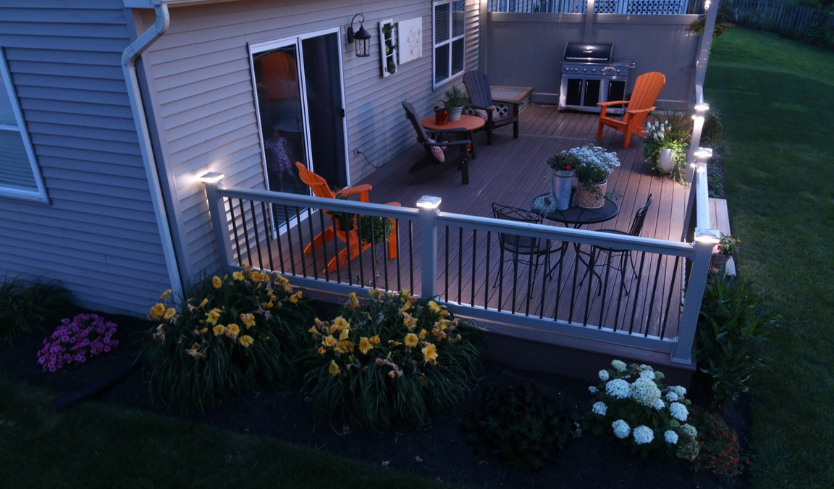 Beautiful and functional lighting is a secret key to a truly standout outdoor living design. Why is it a secret? Because the true impact of precise lighting can only be felt during a few hours, so it tends to remain an under-the-radar design x-factor. However, the right outdoor lighting ideas can take a beautiful space to truly transcendent heights when the sun goes down.
At GreenWay Fence & Railing Supply, we sell a wide range of outdoor living essentials to homeowners and contractors alike. We provide a variety of stylish and practical lighting options that can be included right in your deck or patio. Keep reading to explore our favorite DIY and built-in outdoor lighting ideas!
Exterior Lighting for Decks and Patios
Whether you want a subtle lighting scheme to keep your space lit and pleasant — or you prefer a showstopping lighting piece — you have options! Planning your exterior lighting is an important element of the backyard design and renovation process. Get inspired by our favorite DIY ideas and great products we offer: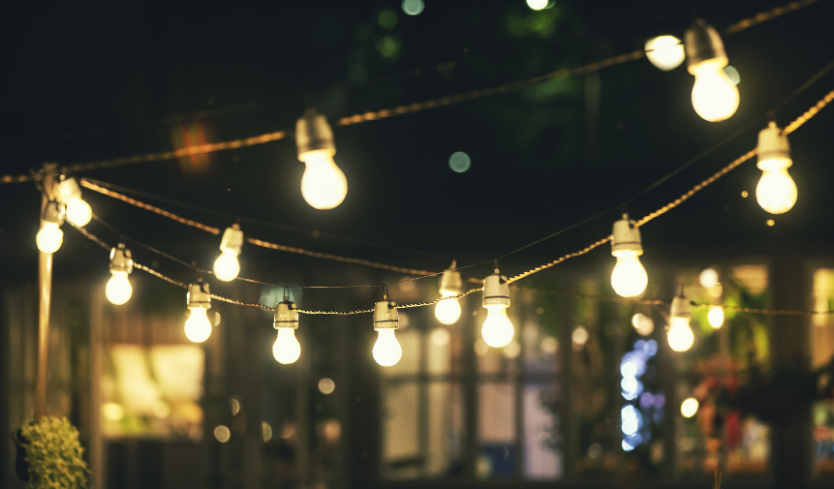 Edison Lights
This is a truly classic DIY outdoor lighting idea. By stringing old-fashioned Edison lights across your deck or patio, you create an immediate ambience, reminiscent of an outdoor café. Plus, draped across the entirety of your deck or patio, you bring the practical illumination needed for late-night outdoor gatherings. Since you'll need to string these from somewhere elevated, this idea often goes hand-in-hand with a new pergola.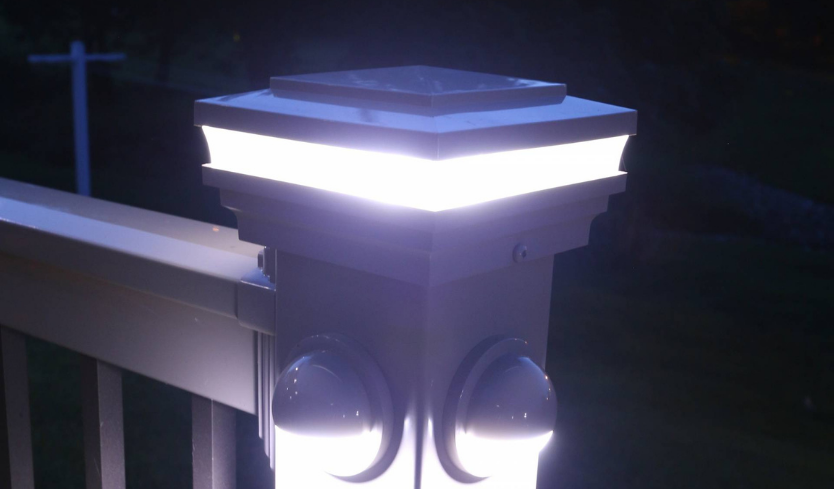 Post Cap Lights
This next exterior lighting idea puts to use one of our specialty products. Our post cap lighting features an LED embedded in the post caps of your deck or porch railing. This creates a subtle, yet potent lighting scheme that keeps your area well-lit. We offer a wide range of styles that can complement practically any décor.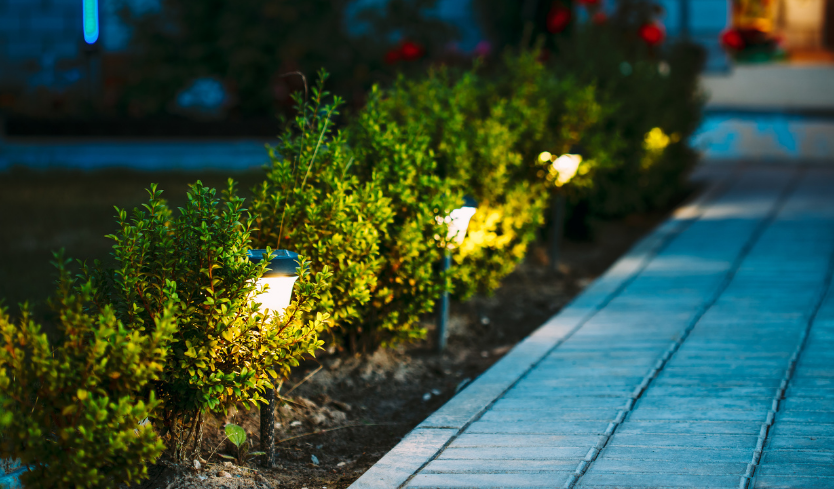 Landscaping Lights
When done right, this is a simple and easy way to border your deck or patio in light. Adding individual landscape lights into the dirt or flowerbeds surrounding your space can create a truly magical feel. In addition, these lights tend to be inexpensive as well as very easy to replace and move. However, this idea only works for ground level decks, so elevated outdoor spaces will need something different.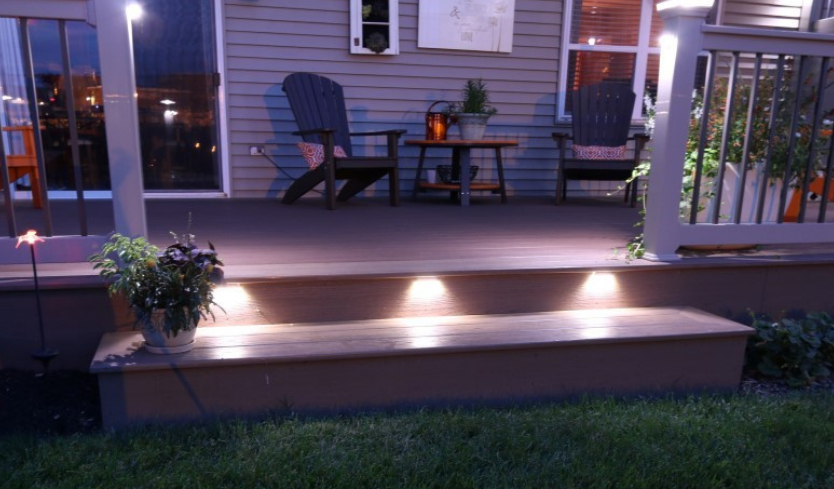 Built-In Deck Lighting
While this signature product of ours doesn't work for hardscapes, for decks it can be a fantastic solution. These LEDs are mounted into the deck boards themselves, providing calming and effective ambient light — in an extremely unobtrusive profile. We offer two distinct styles of built-in lighting: one that is completely flush with the deck board or a dome-shaped light that sits above the board.
Shop for Built-In Deck Lighting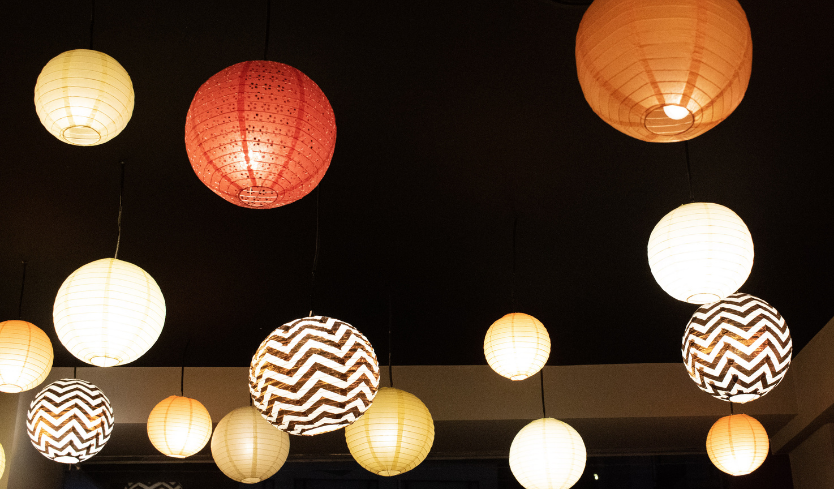 Globe Pendant Lights
Simple, effective, and often fairly inexpensive, pendant lights are a great choice to consider for your outdoor space. Featuring a bulb in a dangling circular container, these lights look interesting, and if you have a few of them, they can effectively illuminate almost any space. Like Edison lights, they require a place to hang them from. We've even seen homeowners hang moveable pendant lights from tree branches for a truly eye-catching touch.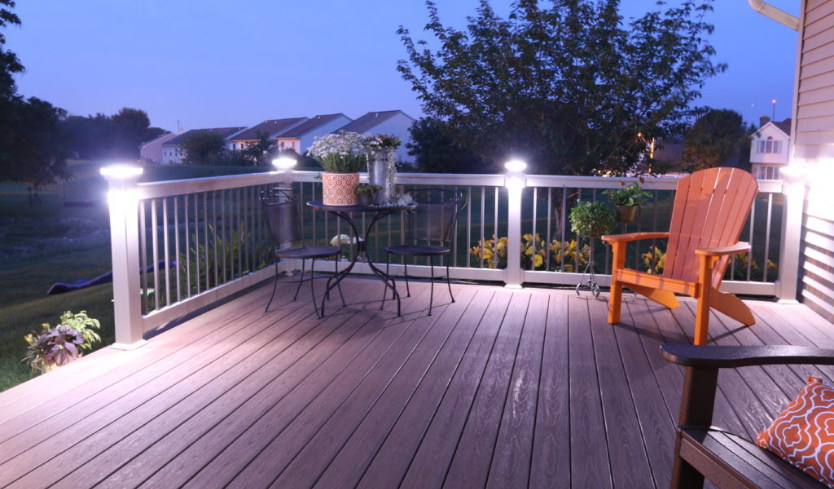 Side Mount Railing Lights
Here's another GreenWay outdoor lighting idea that puts your deck or porch railing to good use! We also offer side mount railing lights that feature LED lights embedded in sleek and stylish vinyl railings. If you're updating the railings on your porch or deck, this can be a fantastic product that takes care of your exterior lighting and railing needs all in one.
Get Pricing for Side Mount Railing Lights
Whether you prefer the DIY approach or the built-in one, both choices are effective and beautiful. The major advantage we see to built-in lighting schemes is that they enhance the necessary fixtures of your space, like deck boards and railings, to create something totally unique!
Your Outdoor Material Team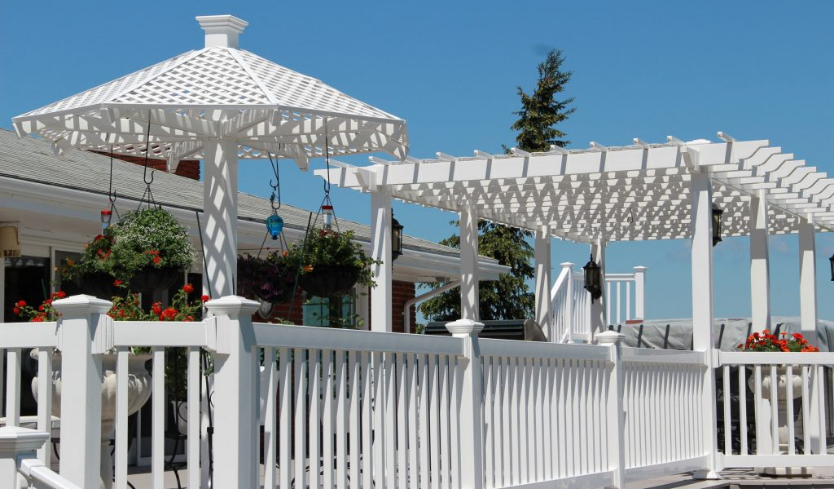 While exterior lighting may be the topic of this blog, with GreenWay, that's just the tip of the iceberg. In addition to our lines of built-in lighting, we also craft stylish vinyl fences, beautiful garden arbors, and attractive vinyl flowerbeds. For those with truly unique tastes, we build 100% custom designer fences.
In addition to the vinyl products we build, we also stock nationally leading outdoor brands for deck boards as well as aluminum fences and railings. We want to be the one-stop outdoor shop for contractors and homeowners alike.
Bring Your Outdoor Lighting Ideas to Life with Us
Did any of these outdoor lighting ideas catch your eye and spark your imagination? If so, we'd love to help you get what you need to make your outdoor renovation a success. If you have questions about something completely custom — whether for lighting, fencing or something else — it never hurts to reach out to our team and ask. We want to be the team you trust for any and all outdoor materials.
Start the conversation with GreenWay Fence & Railing Supply today!