3 Maintenance Free Fencing Choices: Which is Right for You?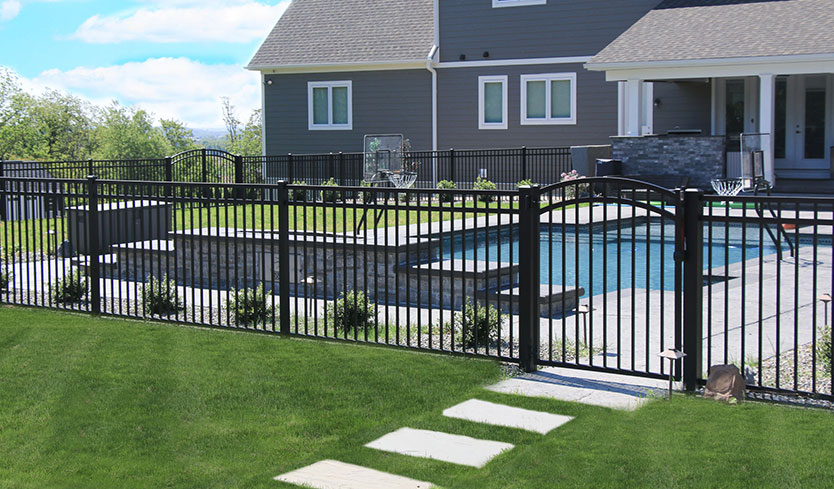 You want a new fence for your yard — not another chore you add to your spring cleaning list every year. You're in the right place — we have plenty of maintenance free fencing options for you. These picks look beautiful, are easy-to-own, and last 50+ years.
At GreenWay Fence & Railing Supply, we offer a huge selection of fencing materials that won't require the regular re-staining and re-painting that traditional wood materials require. Among these options are vinyl, aluminum, and aluminum-vinyl combination fences. We call all three of these our low maintenance or maintenance free fencing as they only require the occasional washing to look their best. Keep reading to learn about the advantages of all 3 of these low maintenance deluxe fences — or reach out today to talk to an expert and place your order!
Exploring No Maintenance and Low Maintenance Fencing Options
Once upon a time, the only fences on the market were made of wood, and although they looked nice, they had some problems. These wooden fences required regular re-painting or re-staining — otherwise, they would grow mold and start to rot. This proved to be a headache for many homeowners. That's why deluxe fence materials like vinyl and aluminum have quickly become the gold standard for new fences.
We're exploring the 3 most popular low maintenance fencing options we offer, to help you find your favorite:
Vinyl Fences
Vinyl fences are a great maintenance free fence and have become the most-popular picks throughout American neighborhoods. Vinyl fences come in a wide range of patterns and colors that complement many home colors. In addition, tall vinyl fence panels are some of the best options for total backyard privacy. When it comes to spring cleaning, vinyl is a true low maintenance fencing option as cleaning it with soap and water is the only thing you need to do to keep it looking its best.
Aluminum Fences
Aluminum fences make a statement with their distinctly sleek style. While black aluminum is a statement piece fence in upscale neighborhoods, there are actually more aluminum colors and styles  — and the options are growing every year. As a low maintenance fence, aluminum truly can't be beat. Once again, aluminum will never need to be painted or stained to prevent rot. Even better, darker colored aluminum fences don't show dirt and grime, and thus don't even need to be washed every year.
Aluminum-Vinyl Combination Fences
This style-forward choice also stands out as a fantastic maintenance free fencing option. A combination of aluminum and vinyl, these gorgeous two-tone fences have emerged as an increasingly popular option for their unbeatable privacy, distinct look, and no maintenance benefits. Just like with vinyl fences, all this fence will require is that you wash it with a gentle soap and water should you notice any dirt.
Not only are all 3 of these deluxe choices easy-to-own low maintenance fencing options, but they have extremely long lifespans, too. You can easily expect each of these fences to last 50+ years and look fantastic the whole time!
Other Vinyl and Aluminum Outdoor Accessories
You can get maintenance free advantages for almost everything in your backyard. In addition to these great low maintenance fencing options, we also offer these maintenance free specialty products to bring your backyard to life:
Maintenance-Free Railings — Perfect for re-doing your deck or porch, our vinyl and aluminum railings provide sturdy support and won't require any of the maintenance you'd expect with the wooden alternative.
Picnic Tables — Another outdoor necessity, our picnic tables can pull together your outdoor space. Just like our vinyl fences, these picnic tables are built tough and durable to resist rot and mold.
Pergolas — Just like with fences and railings, these ultra-trendy outdoor structures come in both wooden and vinyl options. At GreenWay, we only offer no maintenance vinyl pergolas, as wooden pergolas will need to be re-painted and re-stained every year.
Get Your Quote on Maintenance Free Fencing
Start shopping for your maintenance free fencing right now. Whether you know you want vinyl, aluminum, or a deluxe combo fence, reach out today. We can give you price quotes for all 3 of these great low maintenance fence options — or help you find the right option for your property. At GreenWay, we gladly support both contractors and homeowners alike with the high-quality materials they need.
Reach out today to get more information and pricing for our fences!