Style Trends: Two-Tone Vinyl Fences & More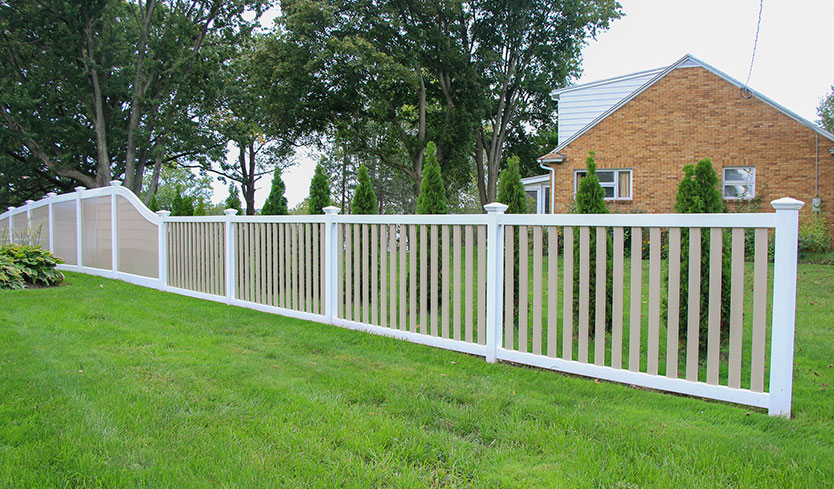 More and more, fences are becoming a key element in style-forward outdoor designs. For some homeowners, their curb appeal just isn't complete without an attractive luxury fence. In today's blog, we're highlighting the current fencing trends that are making style headlines — from two-tone vinyl fences to other popular color choices.
At GreenWay Fence & Railing Supply, we build vinyl fences that look gorgeous and last for decades. We often work directly with homeowners to help them select the perfect option for their outdoor look and their privacy or security needs. Keep reading to see some of our favorite two-tone vinyl fences — or reach out right now to place your order!
Gray and White Vinyl Fences + Other Two-Tone Options
Whether you're getting a fence to protect a new pool, corral a rambunctious pooch, or to make your backyard a little more secluded, we guarantee you'll find multiple gorgeous options that fit the bill. If your sights are set on one of the increasingly in-demand two-tone vinyl fences, these are some of our favorite options:
Gray and White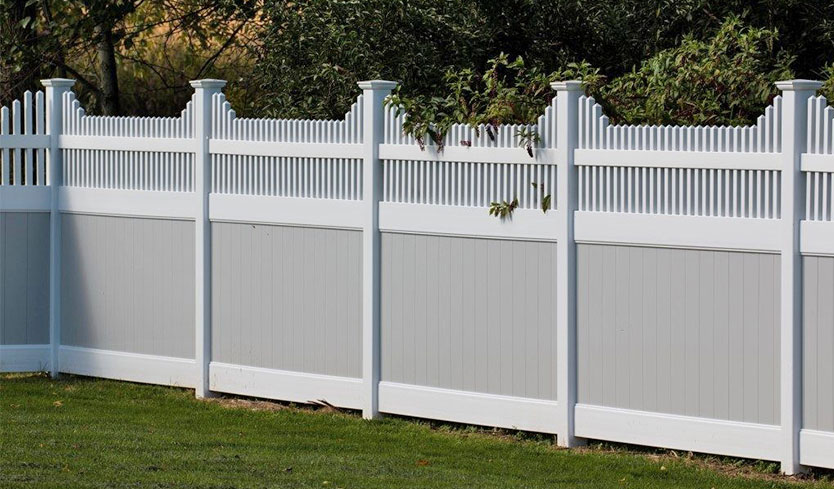 Gray and white vinyl fences are one of the leading color combinations we see. By pairing a white frame with gray privacy panels, you create a color combination that stands out from typical plain fences. In addition, this elegantly simple look matches almost any home regardless of the color.
Tan and White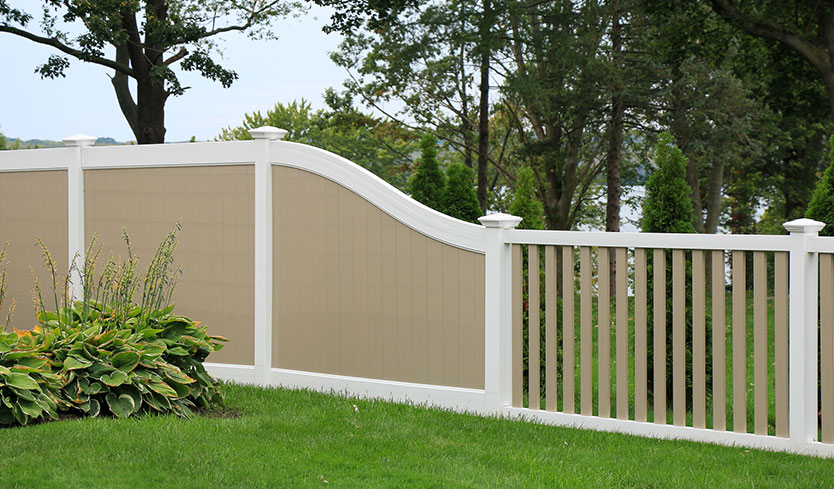 Following closely after gray and white vinyl fences are fences with a tan and white color scheme. This style has been popular for a bit longer and it's easy to see why — the tan and white vinyl shades complement each other perfectly. This fence style is a particularly popular choice for accessorizing in-ground pools!
Slate and White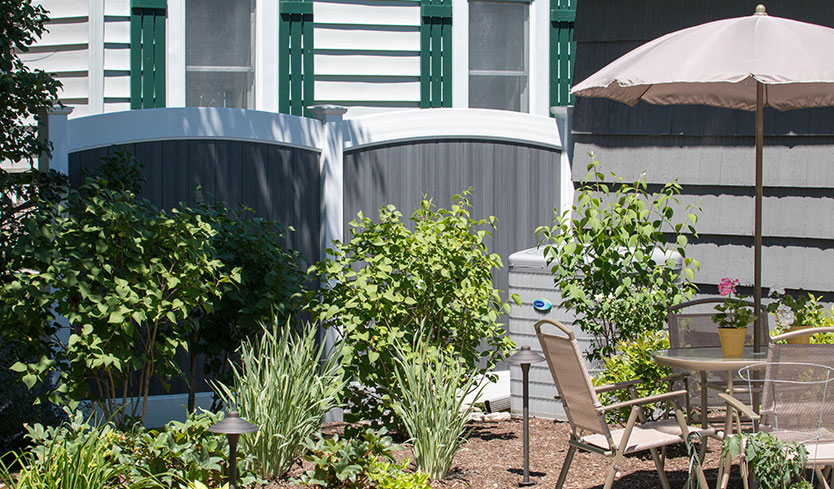 While this two-tone vinyl fence may not be perfect for every outdoor style, it does provide a truly one-of-a-kind aesthetic. The dark, yet bold panels look fantastic when paired with a darker home siding color. However, on its own the color combo is certain to provide an eye-catching flair to your curb appeal.
Dig into even more vinyl fence home color combos!
Tan Vinyl Fences: A Great Single-Color Alternative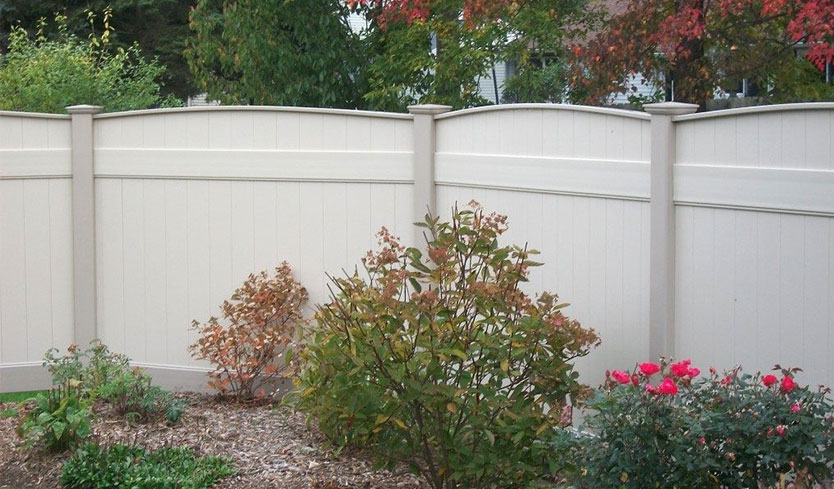 There's no question that gray and white vinyl fences — and other two-tone fences — might be the in-demand options right now, but that doesn't mean there's anything wrong with sticking to a single color. While nothing will likely ever rival the popularity of the classic white vinyl, tan vinyl fences are quickly becoming a trendy option.
First and foremost, this color is a hit simply because it lets your yard stand out compared to a whole neighborhood of white picket fences — without being a controversial choice whatsoever. On top of that, many suburban homes come with white or tan vinyl siding, which makes tan vinyl fences one of the most natural choices possible.
Ready for more inspiration? Check out some of our favorite designer fences.
Shop Two-Tone Vinyl Fences & More at GreenWay
From beautiful tan to white and gray vinyl fences, we're committed to making outdoor privacy downright gorgeous. At GreenWay, the homeowners and contractors we work with care about using fencing as another key ingredient in building a truly standout outdoor style. However, that doesn't mean we put style before practicality.
All of our vinyl fences are ultra-low maintenance, meaning you'll never need to paint or stain them to keep them looking their best. On top of that, our fences easily last 50+ years out in the elements. We also offer luxury aluminum fences that possess the same benefits of vinyl — with a sleek and slim style.
If you're ready to take the next step in bringing one of those two-tone vinyl fences home, you're in the right place. We sell our fences directly to homeowners, which can be perfect for a DIY project. However, we also work with a network of skilled contractors and can recommend someone skilled in your area. The first step is to reach out to our team to discuss your style — and to place your order!