Modern Yard Fence Ideas for 2022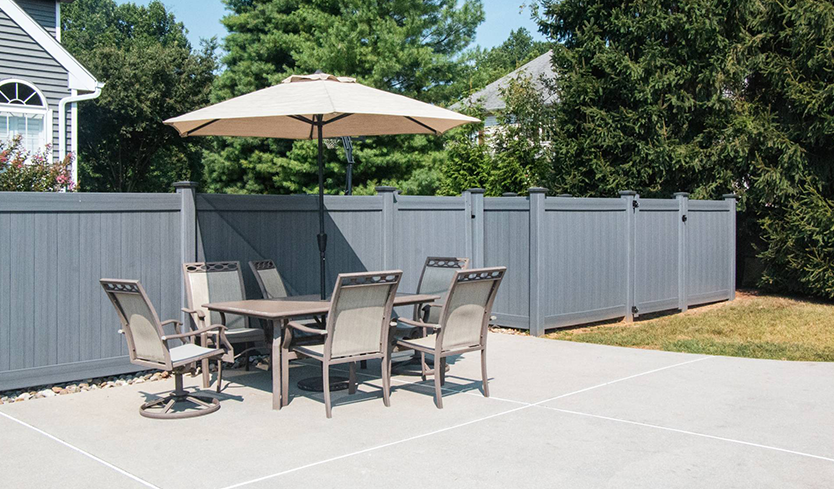 More than ever, homeowners are beginning to realize what an impact an attractive fence can have on their home's curb appeal. Gone are the days of opting for a fence to merely do the job in favor of an option with equal parts effectiveness and style. In today's blog, we're highlighting some of the most exciting modern yard fence ideas that will be a hit in 2022 and beyond.
At GreenWay Fence & Railing, we build and supply several lines of gorgeous, maintenance-free fences to professionals all over the country. Not only are our products easy to install, but they help you win jobs with their practical benefits and eye-catching styles. Keep reading to see just a few of the modern yard fence ideas that homeowners will want to complement a wide range of different styles of homes!
Contemporary Fence Designs Your Customers Will Love
From open yard fences to towering privacy options, these contemporary fence designs fulfill a range of different roles while boasting a standout look. While all of these fences aren't brand new to Greenway, we're willing to bet you haven't seen all of these fences anywhere else before. Take a closer look at these contemporary fence panels that make a style statement: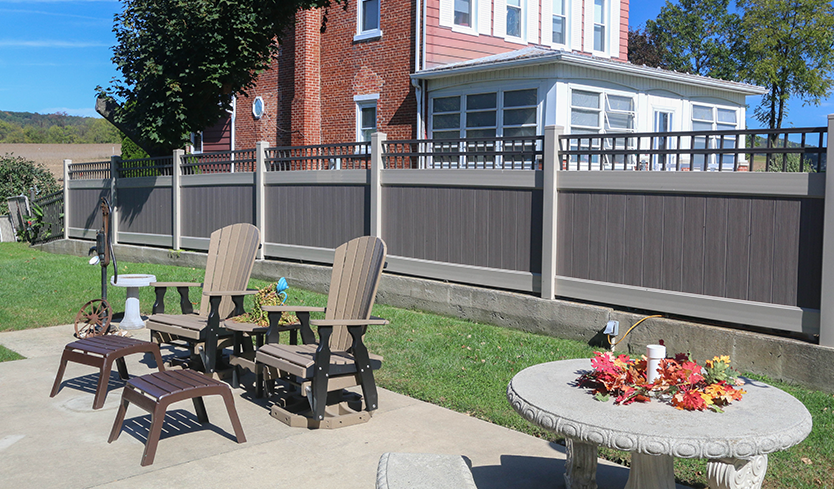 Spindle Top Privacy Fence
Privacy fences are the best option for keeping your backyard feeling safe and absolutely secure. The only complaint about these options is that the design can look slightly monotonous. This more contemporary fence design distinguishes the style from the standard model in two key ways: the two-tone color scheme — and the spindle, which adds a unique character to this striking fence.
Standout Trait: Aluminum Spindles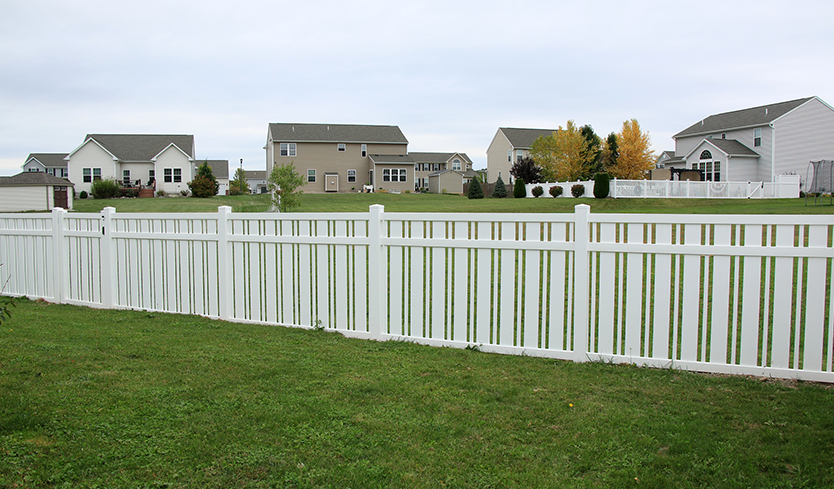 Easton Yard Fence
Yard fences are one of the most tried-and-true products we craft at GreenWay. While this is often a fairly traditional product, the Easton has a very different feel. This comes from the irregular panel pattern that alternates different width pieces. This fence is best used for keeping a rambunctious puppy in the yard or keeping a pool protected. This model shows how contemporary fence designs pair both effective advantages with a unique look.
Standout Trait: Unique Pattern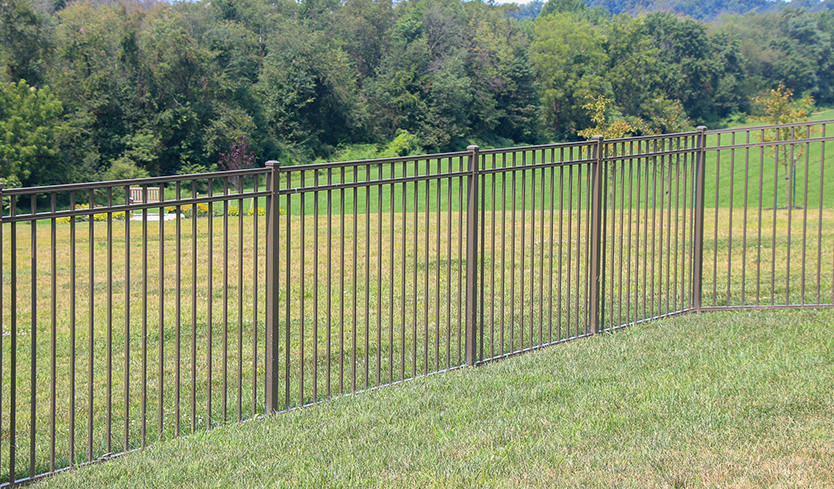 Flat Top Aluminum Fence
Aluminum fences have been steadily rising in prominence in recent years thanks to their slim yet sturdy construction and range of exceptional custom options. The contemporary fence panels featured here showcase a no-frills flat top rail and a striking bronze color. While there are ample options for both the rails and the color, this simple yet beautiful design can enhance a huge variety of different properties.
Standout Trait: Sleek Construction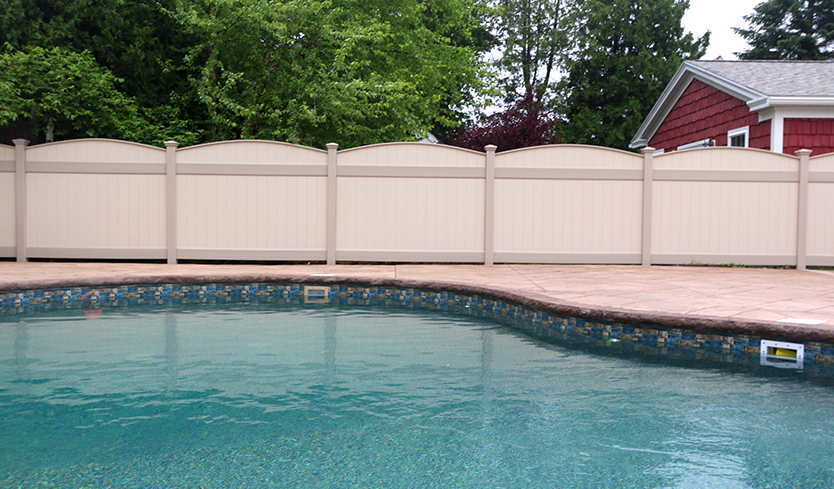 Arch Top Privacy Fence
This modern fence idea is a true showstopper and something of a signature item from GreenWay. This fence makes a statement thanks to the subtle but effective color contrast and beautiful round top of the fence. That arched top definitely creates an eye-catching profile thanks to its unique curve. A fence like this would be perfect for creating a secluded and upscale backyard oasis!
Standout Trait: Curve Top Profile
Style That Lasts a Lifetime
All of these contemporary fence designs are created to be attractive enough to catch your customers' eyes — and built to be extremely durable, too. All five of these featured contemporary fence panels (and EVERY other GreenWay fence as well) will last a lifetime. That is because the vinyl or aluminum from which all of our fences are built is 100% immune to the rot and mold that destroys wooden fences.
Not only will the fences last a lifetime, but they won't require involved maintenance to keep them looking great. Your customers will never need to re-stain, re-paint, or do any serious work on their fences. The most time they'll ever need to invest would be to wipe the fence down with a towel every few years to remove built up dirt. We know that the upscale looks of the fences often make the first impression, but these are just a few extra selling points that make any of these modern fence ideas a smart choice, too.
See our photo gallery for more inspiration.
Buy Modern Fences from GreenWay
If any of these modern fences and ideas caught your eye and you'd like to introduce them to your customer base, we're happy to help. We ship our lines of railing and fences nationwide. If you have any questions about installation or finding the right fence, our team is happy to provide insight and information.