Fence Design Gallery: Favorite Fences of 2020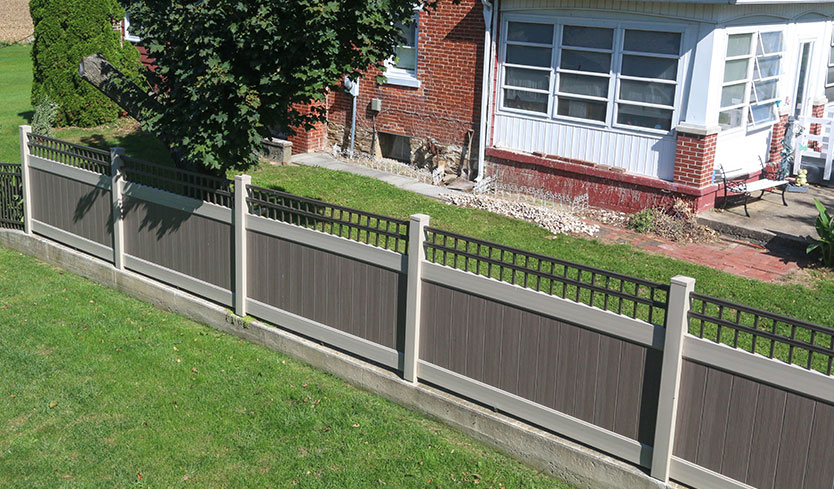 To some homeowners, a fence is just a fence. For other homeowners, a fence is the beautiful finishing touch on their handpicked yard décor. If you're looking for something a little more stylish than the average garden fence, you're in the right place — explore our fence design gallery, showcasing our favorite fences of 2020!
At GreenWay Fence & Railing, we build and sell luxury fences to homeowners and contractors all over the country. While we offer our standard in-demand fencing lines, building custom yard fences is one of our specialties. If you're looking for inspiration for your own yard, we invite you to check out our 2020 fence design gallery. Once you have an idea of what you want — either one of these great fences or something custom — reach out to place your order!
Unique Fence Ideas to Spark Your Imagination
For some backyards, a simple white vinyl picket fence is perfect — that's why we sell plenty of that classic style! However, a more intentional and more complex backyard décor often needs something a little different. If you're still looking for that spark of imagination, check out some unique fence ideas right here: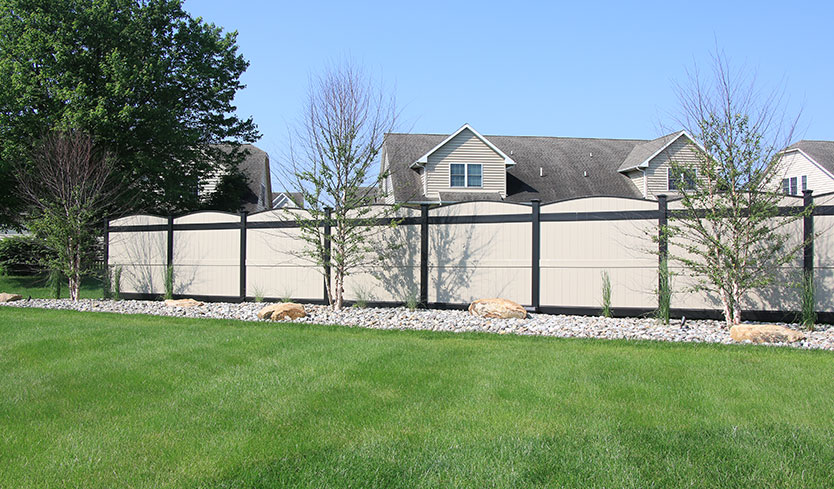 Tan and Black Designer Fence
We're kicking off this fence design gallery with a true showstopper! Combining rich tan vinyl panels with a solid black frame, this fence is one of our favorites of all time. From a visual standpoint, this two-tone pattern creates a distinct look that stands out in practically any neighborhood. On a practical level, the height makes it a highly effective privacy fence!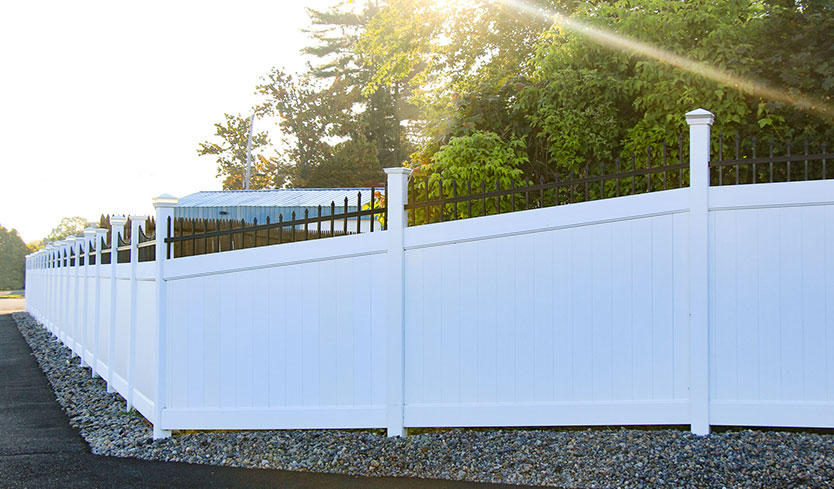 Vinyl Privacy with a Twist
A white vinyl privacy fence is a truly timeless style, seen all across suburban America. However, this unique fence idea takes a standard model and adds ornamental aluminum spears along the top rail. This touch brings an eye-catching regal twist to a traditional style.
Get an idea about average privacy fence prices!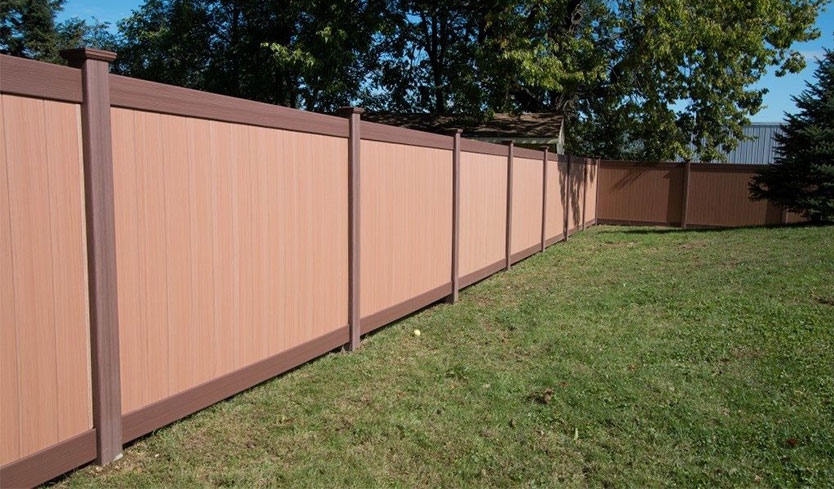 Rustic Meets Modern
There's a lot to love about bringing rich and rustic wood color tones to your backyard. However, wooden fences create a lot of practical problems, such as needing regularly re-painted or re-stained, and growing mold. This vinyl fence provides a rich brown color, reminiscent of wood — just backed by the advantages of low-maintenance fence materials.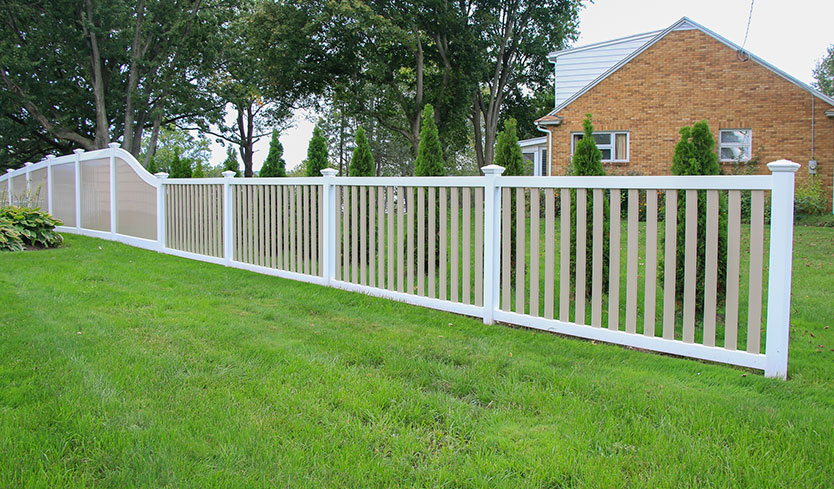 White and Tan Half Privacy
This is one of our favorite unique fence ideas as it provides a striking color scheme as well as an interesting design style. Right away, you'll notice the upscale color combination of the white and tan vinyl — truly a beautiful color combo! Pay close attention to the way the fence shifts from open pickets to a full privacy wall. The homeowner wanted to leave one section open, while ensuring they secured the privacy they needed.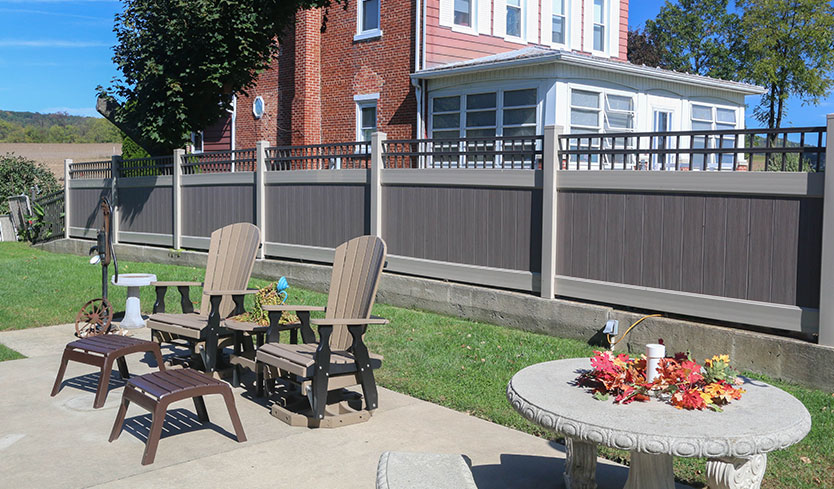 Vinyl Fence with Aluminum Top Rail
When most homeowners are picking a new fence, they choose between vinyl and aluminum. This homeowner combined both materials and the result is truly worthy of our fence design gallery. This fence combines a two-tone vinyl privacy fence with a small aluminum flourish in the form of the dark aluminum top-rail. Not only does this combination make for an appealing modern color scheme, but it also allows the homeowner to talk to their neighbor through the top rail — without sacrificing their yard privacy.
If any of these fence design gallery standouts caught your eye, we'd love to build one for you. On the other hand, if one of these unique fence ideas kickstarted your imagination and you want to create a custom fence, our designers are ready to help.
Benefits: Low Maintenance + Lifetime Performance
While you're probably enamored with the clean, elegant, and modern style of vinyl or aluminum fences, they pack a key practical benefit, too. While traditional wooden fences start out looking nice, they rapidly become eyesores unless they receive meticulous maintenance. However, all of our vinyl and aluminum fences qualify as ultra-low maintenance, meaning they will only ever need washed off with soap and water to look their best!
Plus, all of the fences featured in our fence design gallery (and all of the fences we build) should last you a lifetime. Even with all of the painting and staining in the world, a wooden fence will fall apart around 15 to 20 years of use. That's why these unique fences aren't just beautiful to look at — they're easy to own, too!
Bring Our Fence Design Gallery to Life — Shop Now
Wish one of these fence design gallery styles was in your backyard? You can make that happen. At GreenWay Fence & Railing, we sell our products directly to homeowners who want to try their hand at DIY fence installation. Of course, we may also be able to recommend a skilled contractor in your area who can bring your project to life!
Reach out today to get prices and to place your order!