Budget-Friendly Deck Fence Ideas that Won't Compromise on Style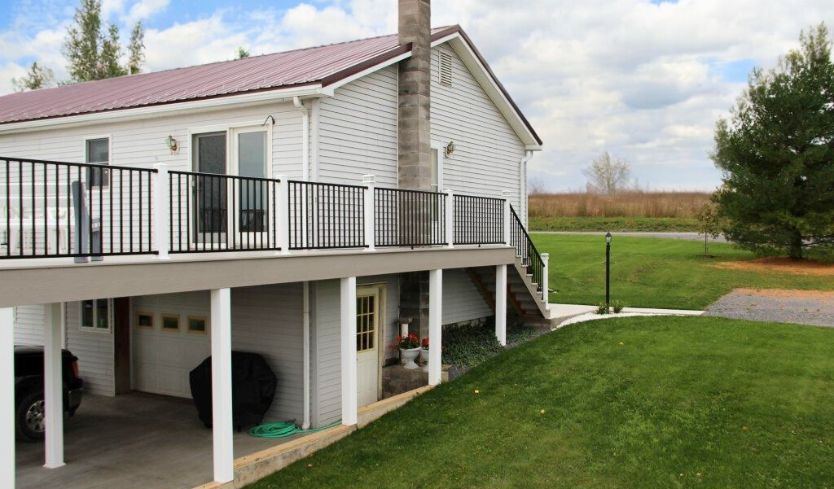 Every backyard needs 3 things: privacy, safety, and of course, style! When it comes to creating the perfect outdoor space, a well-designed deck fence emerges as the ultimate solution that effortlessly ticks all the boxes. By harmonizing functionality, aesthetics, and security, deck fences play a crucial role in shaping the ambiance of your backyard retreat!
Deck fence designs are available in a multitude of colors, materials, shapes, and heights to help you achieve the exact aesthetic and privacy level you desire.
In today's blog, we'll share a plethora of deck fence ideas, designs and popular panels to help you create the ultimate backyard retreat. Plus, we'll even give you the plug for where you can order the exact decking fence panels you see here. Stay tuned to learn more – or contact our deck and fence company today for pricing!
Popular Types of Decking Fence Panels
When it comes to decking fence panels, there is a wide variety of options available to suit every homeowner's taste, budget, and requirements. Beyond providing security and privacy, these practical beauties become a focal point in elevating the overall environment of your outdoor area.
Let's explore the most sought-after types of decking fence panels that have the power to turn any simple deck into a secluded backyard oasis.
ScreenRail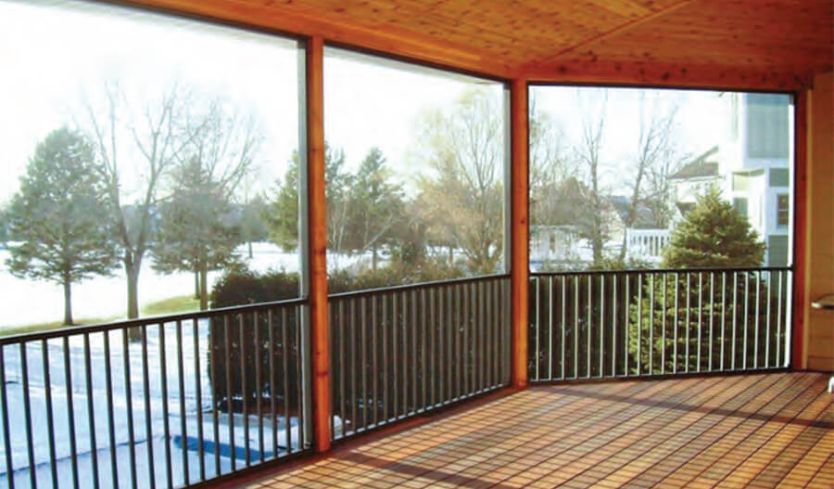 Westbury ScreenRails offer an attractive and low-maintenance alternative to wooden deck fence panels, made from durable powder-coated aluminum. With various colors and styles available, they complement any home's décor. But perhaps one of the best advantages about this deck fence idea is just how easy they are to install and maintain! These screen rails are a hassle-free solution that lasts for years. Perfect for creating screened-in porches, they enhance your home's value and provide a delightful outdoor living space, morning, noon or night!
Vinyl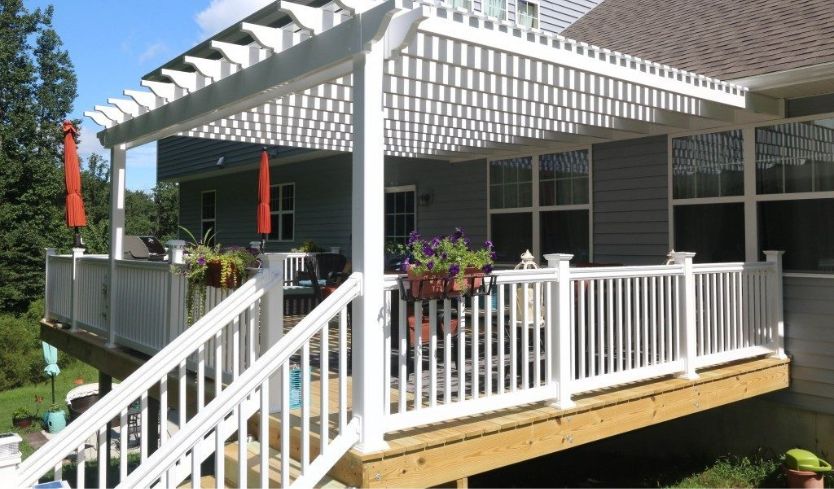 A vinyl deck fence is a type of fencing designed specifically for use on decks or balconies. It is constructed using vinyl materials, which are a durable and low-maintenance railing alternative to traditional wood options. They come in various styles and colors, offering homeowners a wide range of deck fence ideas to match their aesthetics and complement their outdoor space. The vinyl material is resistant to rot, insects, and weathering, making it suitable for withstanding the elements and maintaining its appearance over time without the need for constant upkeep. Overall, vinyl deck fences are a popular choice for those seeking a long-lasting, aesthetically pleasing, and hassle-free solution to provide safety, privacy, and style to their decks or balconies.
Aluminum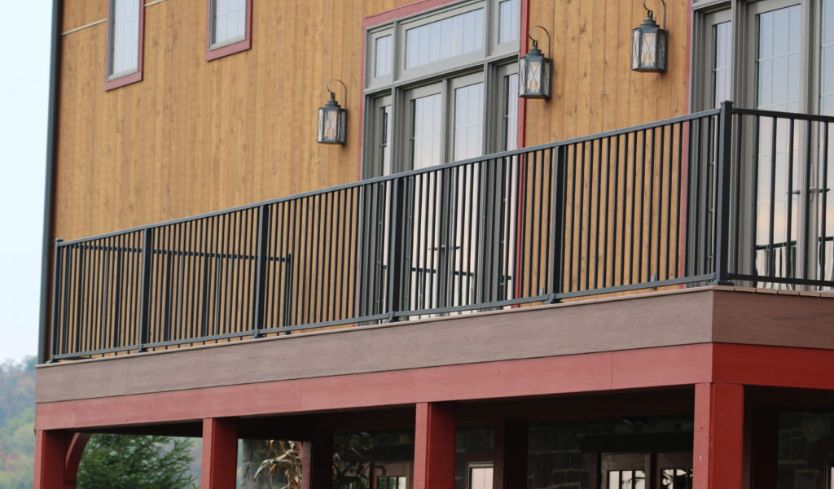 For homeowners with a more modern sense of style, aluminum railing makes the perfect pairing.  It is constructed using aluminum materials, which offer strength, durability, and resistance to rust and corrosion. Maintenance-free, minimalist, and oh-so elegant, this material is one of the best-selling deck fence panels here at Greenway Fence due to its appearance and functionality!
Deck Fence Designs for Affordable Luxury 
With an impressive range of materials like vinyl and aluminum, you have the freedom to select from seven captivating colors, including tan, brown, gray, black, white, almond, and silver. These versatile color choices provide the flexibility to match your deck fence design with your existing outdoor decor or create a striking contrast for added visual appeal.
From modern and contemporary to rustic and classic, there are deck fence ideas to suit all kinds of styles and budgets!
While the array of options might seem overwhelming, there's no need to stress! Ultimately, the perfect fence deck design comes down to your individual preferences and the desired color palette that harmonizes with your home's exterior.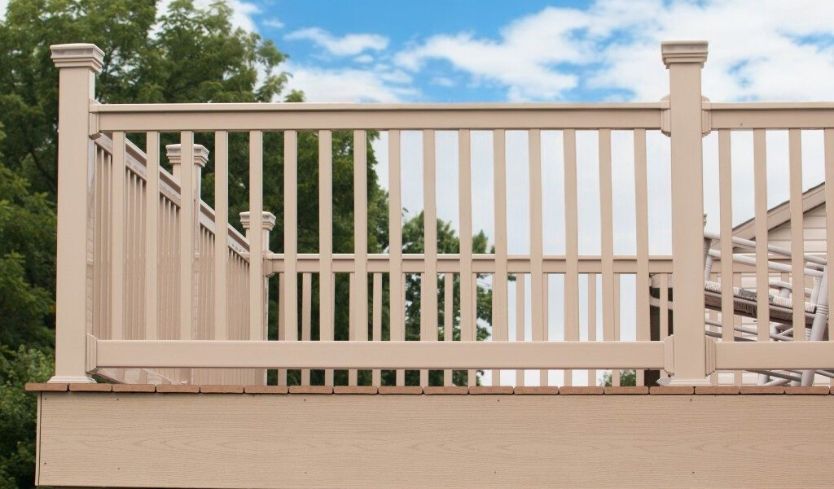 If you find yourself unsure about which design to pick, don't worry! Our expert team is here to assist you throughout the decision-making process, offering valuable insights and guidance to help you curate fence deck ideas that are a true reflection of your taste. Consider questions like these to help you find the perfect style:
Do you want a complementary or contrasting style?
How much privacy and safety are you looking to gain?
What is the budget for bringing your deck fence ideas to life?
Of course, if you'd prefer personalized assistance in executing any of your fence deck ideas, feel free to reach out to Greenway Fence or your local contractor!
Meet Your Trusted Deck and Fence Company – Greenway Fence!
With a plethora of stunning deck fence designs and a wide selection of top-quality materials, Greenway Fence is your ultimate partner in transforming your outdoor space into a captivating oasis with both decks and fences.
From vinyl to aluminum, our impressive range of colors and styles ensures that your deck fence perfectly complements your home's decor while adding an element of affordable luxury. With our expert deck and fence company by your side, you can confidently navigate the abundance of choices, making the decision-making process a breeze!
Embrace the beauty, security, and functionality that our deck fence ideas offer, and let Greenway Fence be the gateway to creating an enchanting outdoor retreat that you'll cherish for years to come. Get in touch with us today to turn your deck dreams into reality!