DIY Backyard Improvements: Decks & Lawn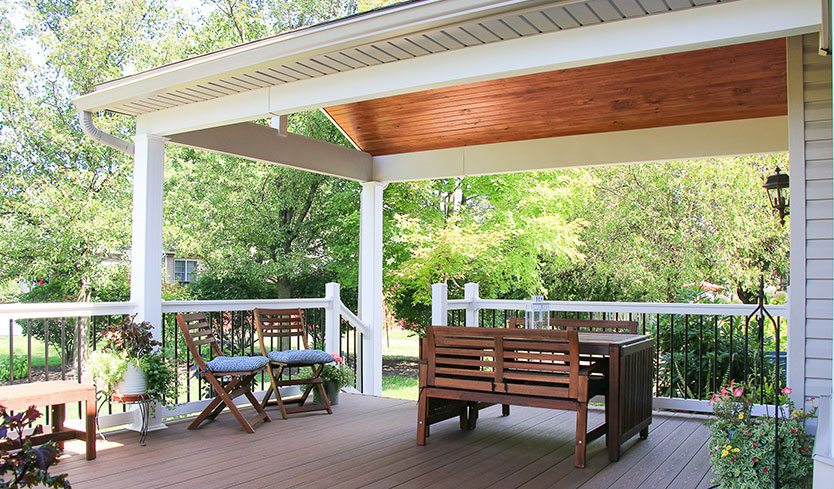 If you can't think of a better way to spend a Saturday afternoon than hard at work on a project, these are the DIY backyard improvements for you. In today's blog, we're highlighting the high-leverage outdoor upgrades that can transform your yard and your deck.
At GreenWay Fence & Railing, we're an outdoor supply company that helps homeowners realize their outdoor design dreams. If you have the desire to tackle a DIY project in your backyard or on your deck, we have the ideas and a wide range of high-quality materials to bring it to life. Keep reading for a closer look at our favorite DIY backyard improvements — or reach out right now to place your order!
Top 4 DIY Yard Upgrades
If your backyard greenspace is looking a little drab, these ideas will make it shine! Our DIY yard upgrades ensure your yard is ready for family fun, entertainment, and relaxation!
Check out our 4 favorite backyard improvements for your yard:
Construct a New Fence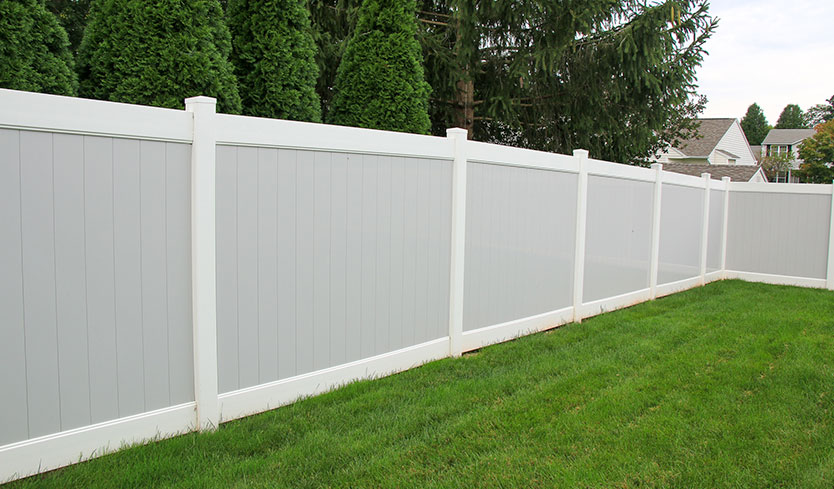 A brand new fence will drastically change the look and feel of your backyard and provide real practical benefits. Firstly, a new fence will enhance the curb appeal of your home and outdoor space by injecting a fresh pop of color. On top of that, having privacy will make you feel more comfortable to enjoy your new newly-beautified yard. Gorgeous luxury fencing is one of GreenWay's signature products — see some of our fence inspiration right here!
Build a Stone Path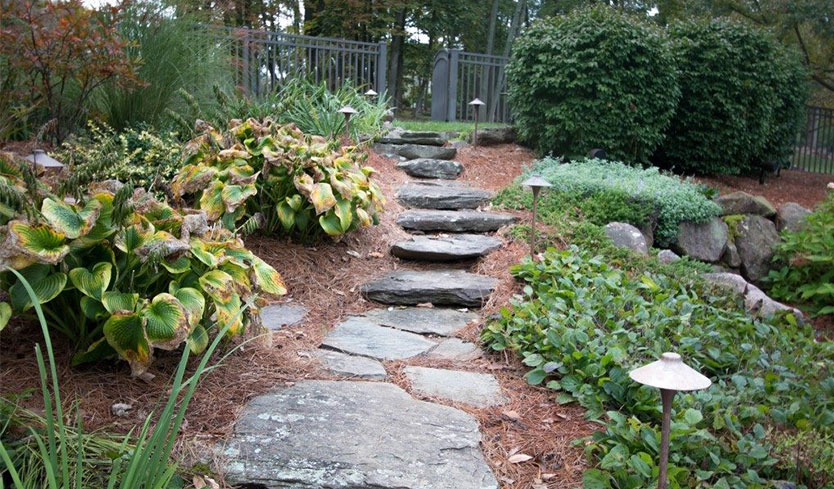 Building a backyard with a lot of character is your dream, so it only makes sense you want your guests to see every part of it. Building a stone path that guides them through your outdoor space is a simple and natural backyard improvement you can add. Bonus points if you incorporate vinyl arbors over the pathway!
Plant a Garden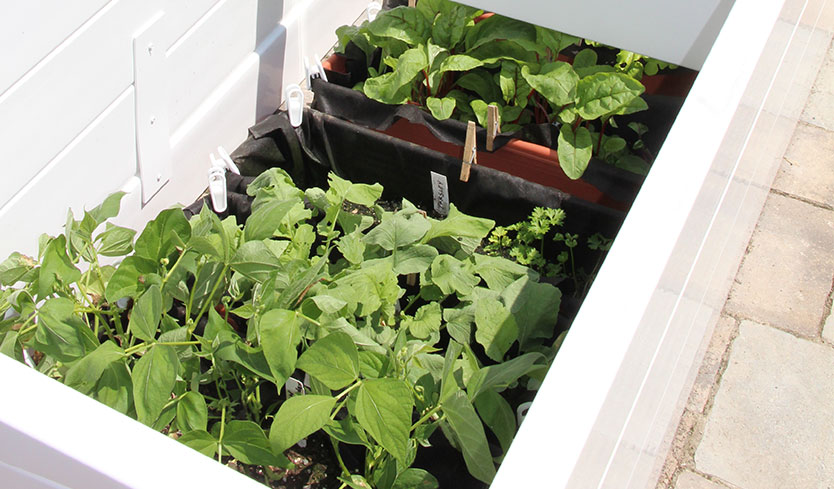 If you've always dreamed of having your own garden, this DIY yard upgrade idea is for you! Adding extra greenery is a great way to liven up your yard's appearance. Whether you plant a vegetable garden to supplement your food shopping, or you plant flowers to attract birds and butterflies, you'll love having your own green space. To help all of the backyard gardeners, we have ample options for hot beds and cold frames to get you started!
Pergola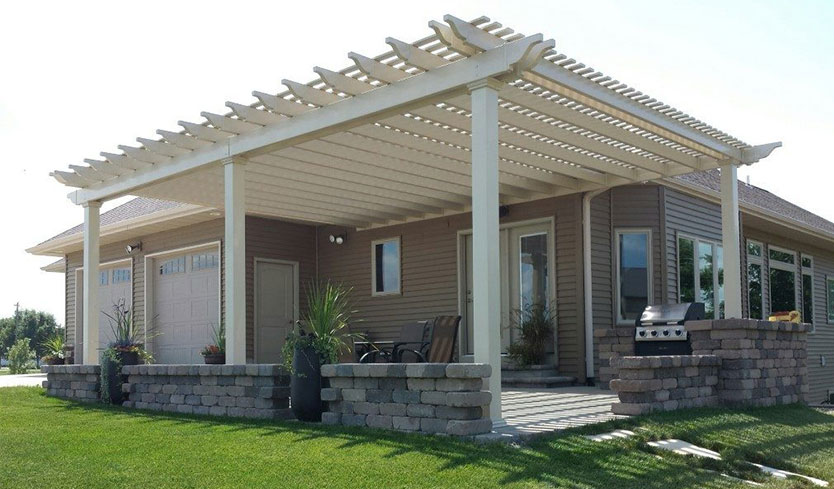 Last on our list of DIY yard upgrades is a true showstopper. Building your own pergola is a fantastic way to improve your yardscape — and to add some much-needed shade for you and your guests. We sell a wide variety of vinyl pergola kits that allows you to build your dream pergola by yourself. It's one of the best projects for experienced DIY homeowners to take on — and we're always here to help when you need it!
Top 4 DIY Deck Upgrades
When it was new, your deck used to be the star of your outdoor space. But now, it has seen better days. However, with the right DIY deck upgrades, you can make your deck better than when it was new.
Check out our 4 favorite backyard improvements for your deck:
New Deck Railing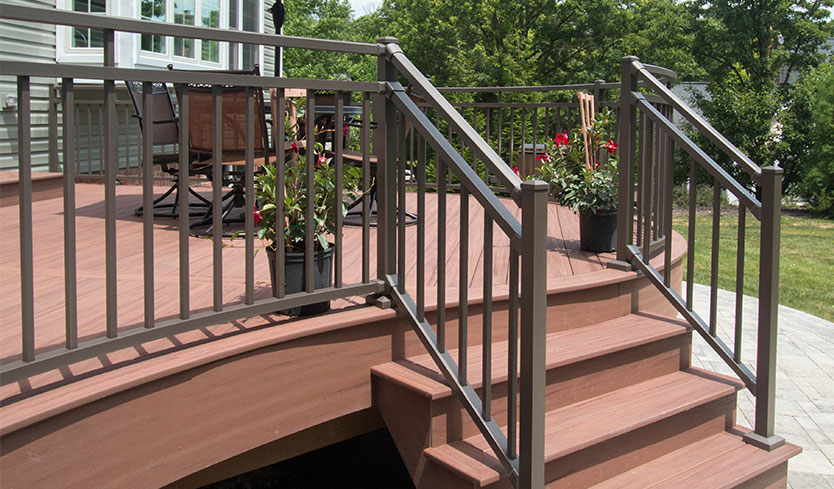 One of our favorite DIY deck upgrades, replacing your old railings provides safety and a sense of style. Unfortunately, the wooden deck railings that came standard with your deck will be one of the first things to deteriorate. Swapping out those old, faded wood railings with either vinyl or aluminum will make it look like you have a whole new deck. At GreenWay, we offer the very best in vinyl railings and aluminum railings!
Lighting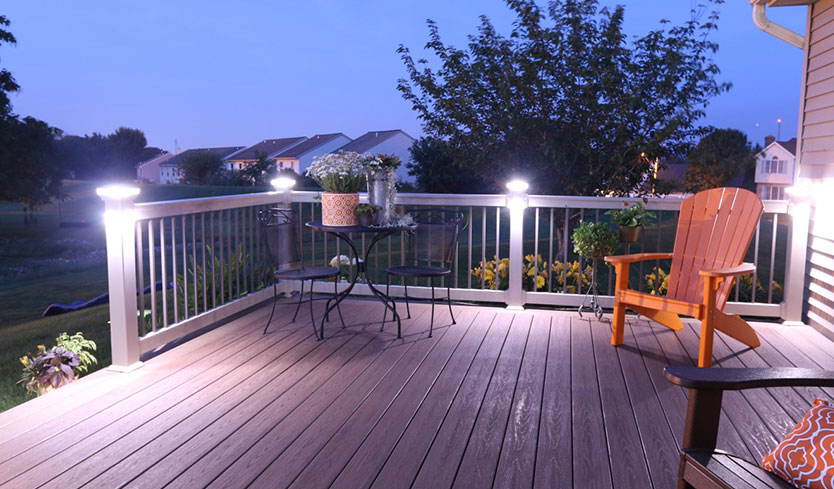 This DIY deck upgrade can be as simple or as complicated as you want — however, it packs a true stylistic punch either way. Consider adding a beautiful lighting scheme to your outdoor living space. Whether you want to hang Edison lights over the deck surface or accessorize with built-in lighting fixtures in your deck rails, it will look beautiful and allow you to enjoy your deck even later into the evening.
Outdoor Speakers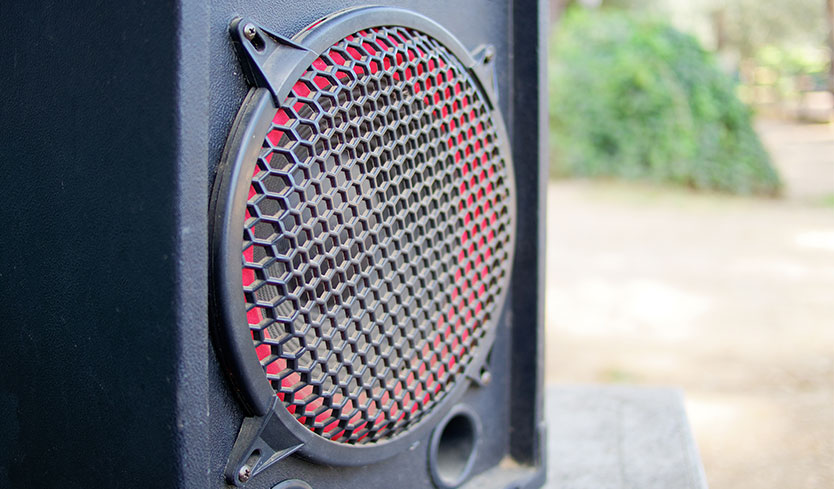 When it's time to host a party, keep everyone entertained with some quality outdoor speakers installed on your deck. With this DIY backyard improvement, all you need to do is purchase the speakers and mount them wherever you want — then "let the good times roll"! This is a great DIY backyard improvement for relative novices as it requires less construction experience and more tech know-how.
New Deck Boards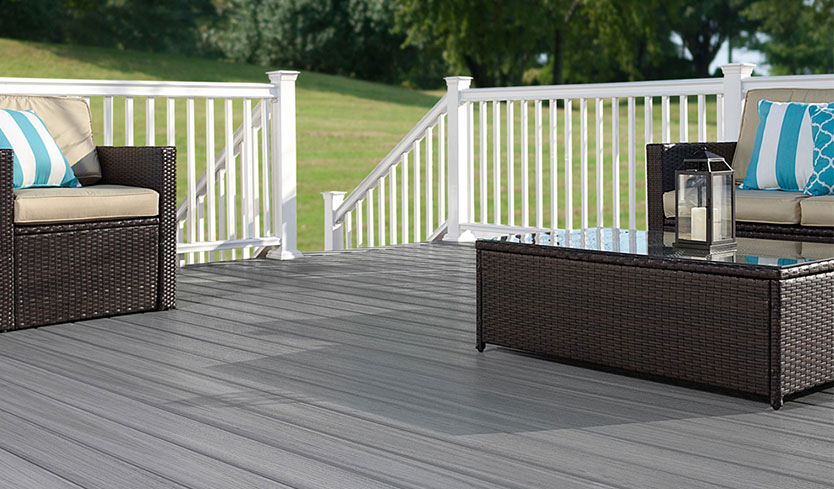 Eventually, your old wooden deck boards will need a face lift — which is where this DIY deck upgrade comes in. If you're feeling ambitious, you can rip up the old boards and replace them with ultra-low-maintenance vinyl deck boards that will last you decades. The impact of this can't be overstated as the new boards will completely change the look of your deck as a whole!
The GreenWay Quality Promise
At GreenWay, we build and sell a truly wide variety of products that are used to complete countless DIY yard and deck upgrades. We are a popular choice for both DIYers and contractors alike because we always put quality first in everything we craft and offer.
Whether you trust us for a new fence, a sturdy and stylish railing system, or a luxury structure like a pergola, you can expect that everything will be durable enough to survive the elements for decades. In addition, our experts can provide the insight and experience you need to ensure your backyard renovation is fun — not frustrating!
Get Started on Your DIY Backyard Improvements
There are plenty of DIY yard upgrades and DIY deck upgrades waiting for your creative inspiration to strike! So, when the time comes to host a party, you can proudly display your handiwork and your improved outdoor living space. If you're ready to get started on your DIY backyard improvements, we're here to help.
Reach out today to discuss your options and to place your order!