Exploring Different Types of Fences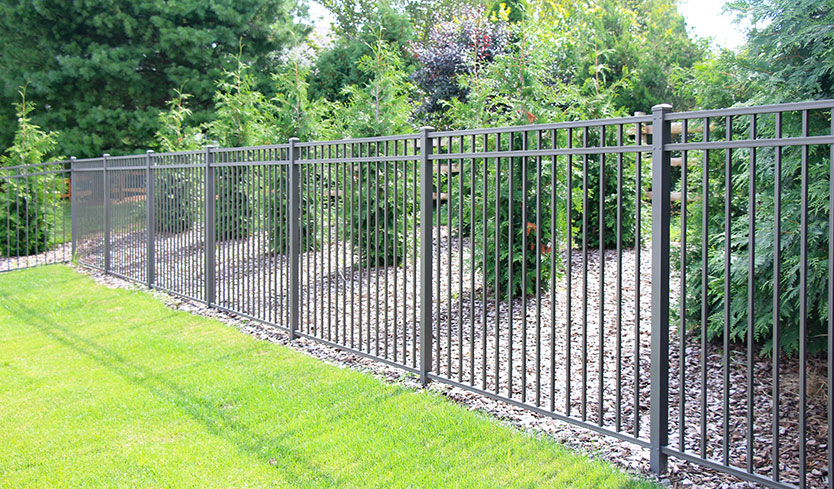 Shopping for a new fence in the 21st century means you have access to a range of different types of fences, each with their own set of styles and benefits. Finding the one that's right for you is all about matching what these fences do best with what you need!
At GreenWay Fence & Railing Supply, we sell elite, maintenance-free fences that homeowners and contractors all over the country trust. Keep reading to check out the pros and cons of each of these different types of fencing — and place your order today!
What Kind of Fence Should I Get?
One of the most common questions we hear from homeowners is, "What kind of fence should I get?". The answer depends on why you need the fence and what you want it to look like. However, we can say that any fence you get from us will provide decades of reliable performance paired with great style!
Check out the profiles on some of our different types of fences:
Vinyl Yard Fence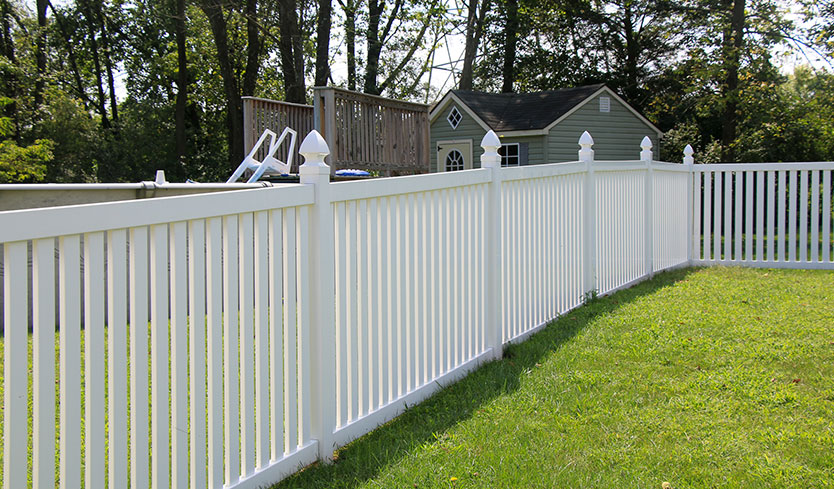 The Basics
This standard type of fence is at-home in neighborhoods all over and is a very strong seller, year after year. Vinyl yard fences come in a variety of styles, but they all feature panels with spaces between the pickets. This is definitely a safe option among all of the different types of fences.
Pros:
Looks great with pools
Less expensive than other premium styles
Simple style matches almost every space and neighborhood
Cons:
Doesn't provide complete privacy
Less top rail accessories than some other fences
You Should Get This Fence If…
You like its elegantly simple style and don't need the privacy.
Aluminum Picket Fence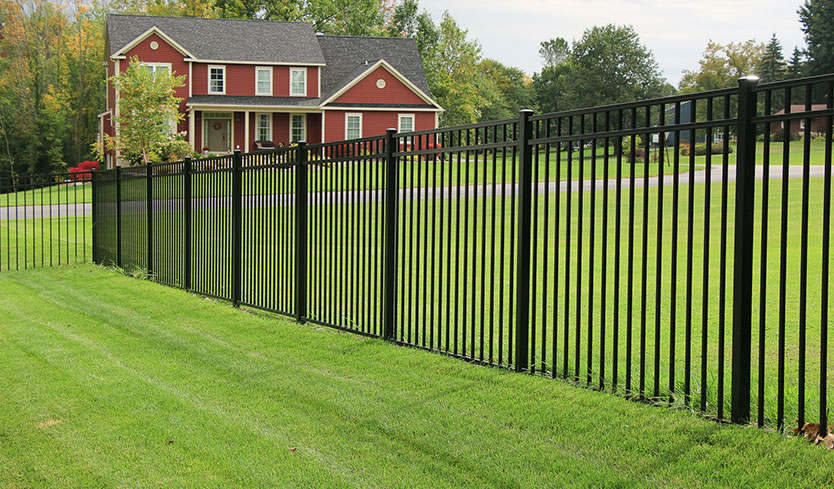 The Basics
An increasingly popular option, aluminum fences deliver a slim modern style (with serious strength) that can be the perfect match for contemporary homes. The sleek style means that your yard stays open, which can be a positive if you have a beautiful view, or a negative if you have a nosy neighbor instead.
Pros:
On-trend modern aesthetic
Wide range of color options
Protect the view from your yard
Cons:
You Should Get This Fence If…
You love your view now or if the possibilities of the modern aesthetic speaks to your sense of style.
Vinyl Privacy Fence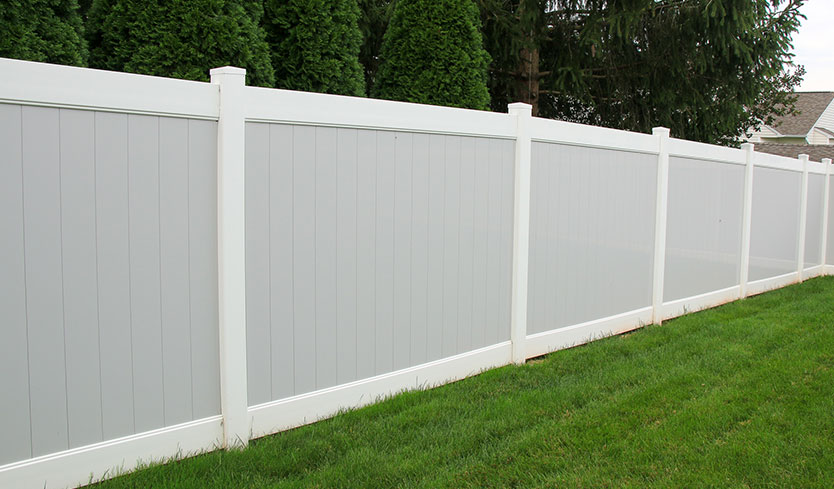 The Basics
When homeowners ask us, "What kind of fence should I get?", this is almost always one we recommend. One of our signature product lines, vinyl privacy fences provide a true sense of seclusion in your backyard. A fantastic option to pair with a new pool, the height and construction of this fence style keeps your yard completely secure and private. From a style standpoint, you have the option to choose a two-tone style and tons of custom top rail options.
Pros:
Unbeatable privacy and protection
Stylish two-tone color schemes available
Large selection of attractive top rail options to customize the fence
Great for keeping large dogs corralled in your yard
Cons:
You won't be able to see out of your yard
You Should Get This Fence If…
You want unbeatable performance packed in a truly gorgeous style.
Vinyl Rail Fence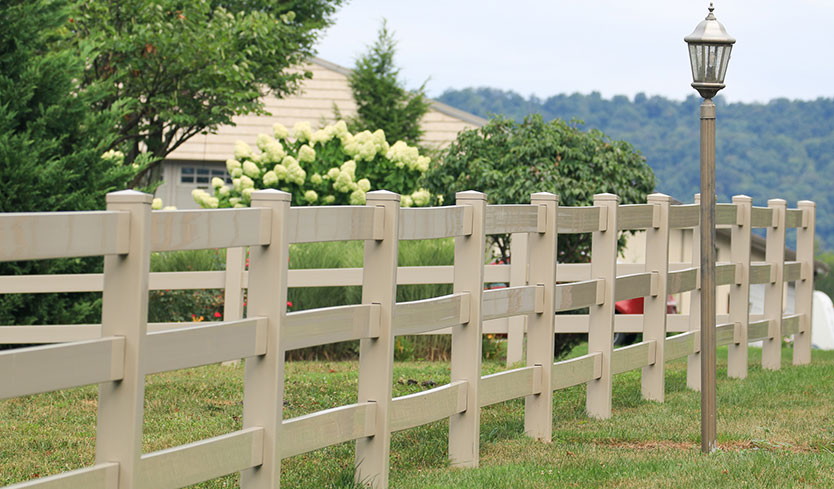 The Basics
This niche style of fence emulates the look of a wooden farm fence, just in low-maintenance vinyl. While wooden fences may still be sold today, they require heavy maintenance and have a comparatively short lifespan. That's why rustic fences like this are a great option for homes, stables, and farms.
Pros:
Authentic rustic look
Low-maintenance like all vinyl fences
Available in multiple colors to mimic the look of painted wood
Cons:
No privacy
May not qualify as a pool fence
You Should Get This Fence If…
The rustic style without the downsides of wood is important to you.
Railing and Much More for Your Backyard
Elite types of fences are just the beginning when it comes to how you can complete your backyard remodel with GreenWay. Homeowners and contractors alike rely on us to supply everything from basics like stylish railings to ultra-low maintenance deck boards. In addition, we also build specialty outdoor products like arbors, outdoor furniture, and much more. Just like our fences, everything you buy from GreenWay will provide the same level of durability and low-maintenance convenience.
Get Quotes on Different Types of Fences
If you came here wondering, "What kind of fence should I get?", we hope we were able to provide you some guidance. Ultimately, all of these different types of fences are the perfect option for someone's yard. If you're ready to take the next step, we encourage you to reach out to our team to ask more questions or to get pricing on the materials you need.