Luxury Deck Railings That Your Customers Will Love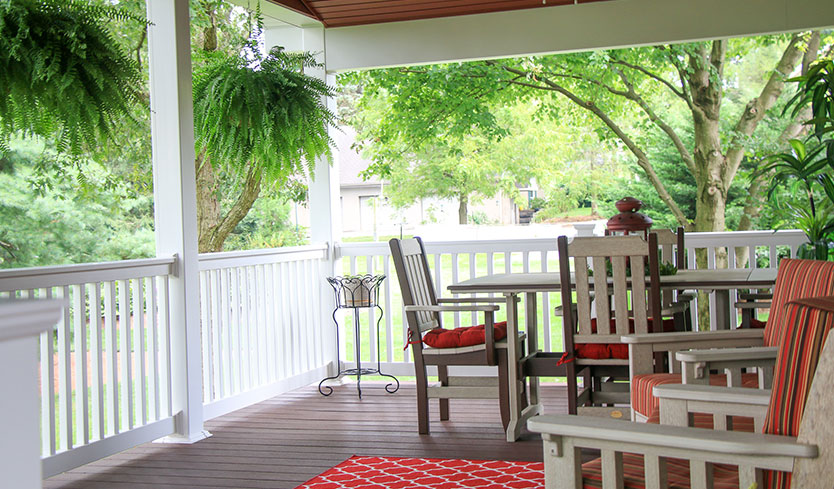 A gorgeous deck deserves an equally upscale railing system. Not only will replacing an old, outdated wooden railing with luxury deck railings make the space more beautiful, but it will also make it safer and easier to maintain. Whether you're just upgrading the customers' railing, or redoing their entire outdoor living space, you'll want to consider these no-maintenance options!
At GreenWay Fence & Railing Supply, we sell the very best outdoor materials to professionals all across the country. To showcase just how many different options you can present when pitching an upgrade for an outdoor space, we're highlighting 5 different luxury deck railing options. Keep reading to discover the variety of different looks — or reach out to our team today to get prices and to place your order now!
5 Different Deck Railing Options
While the railing styles may be radically different, the safety they provide, the ultra-long lifespan, and the low-maintenance convenience are consistent. Any of these deck railing options will deliver the upscale style your customers crave while providing significant practical advantages they'll appreciate for years to come. Find your favorite style right here: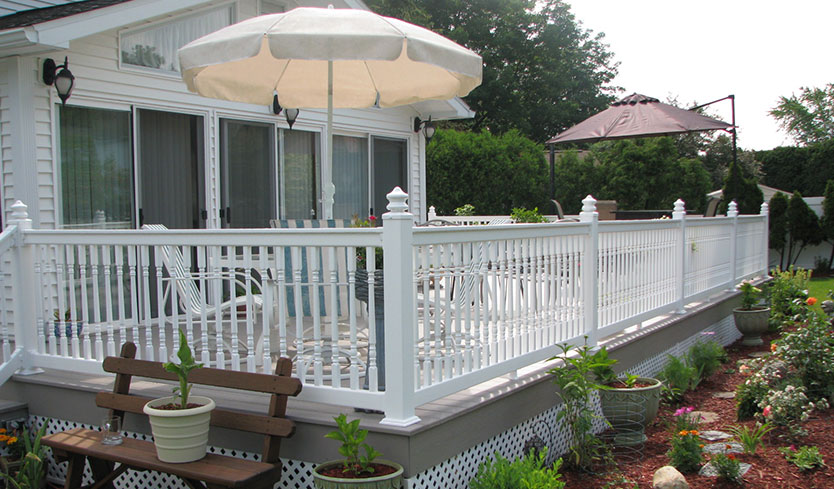 Classic Vinyl Railing
Just like a classic vinyl fence, this railing provides a clean and elegant enhancement to any outdoor living space. And if the customer has a vinyl fence in their yard, this can be the perfect railing style to match it for a fully unified design. There are a variety of different vinyl deck railing options that range from simple and modern balusters — all the way to designs with ornamental curved and beaded balusters. The only maintenance any vinyl railing will need is to be periodically wiped down with soap and water to keep its clean look!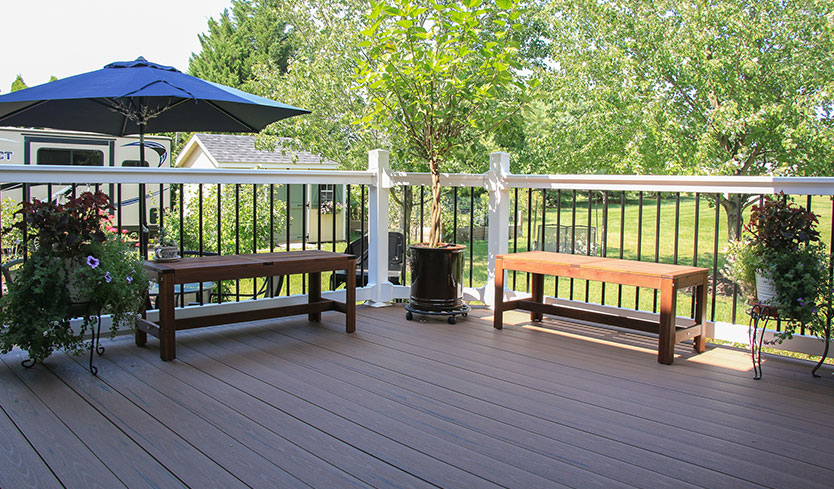 Vinyl & Aluminum Mixed Railing
This deck railing option is made of two of the most popular outdoor materials: vinyl and aluminum. With a solid vinyl frame around sturdy aluminum balusters, this piece is a great combination of two distinct styles. Not only does incorporating these two materials create an interesting look, but it also makes this a fantastic candidate to pair with a vinyl or aluminum fence. While the vinyl will need wiped down every so often to keep its clean appearance intact, the aluminum will never need maintenance or cleaning.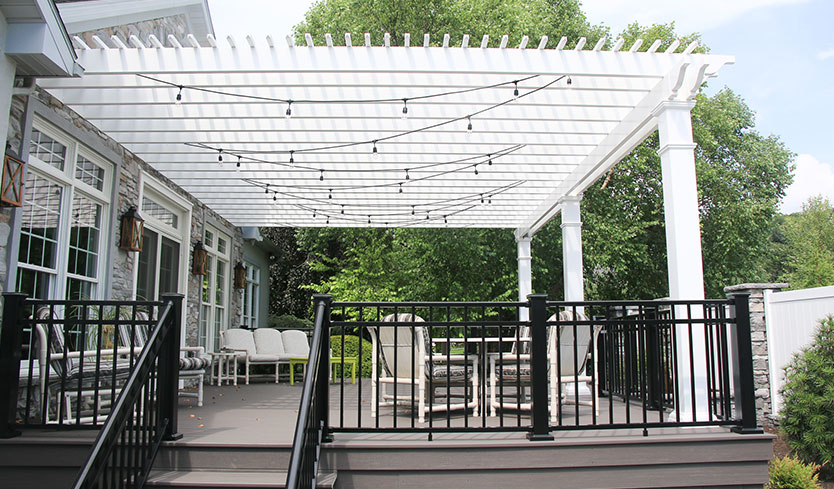 Classic Aluminum
Our aluminum railings are sturdy, sleek, and an all-around great deck railing option. With a style very similar to our aluminum fences, these deck railings can be custom ordered with a wide range of post styles, baluster designs, color options, and even drink rails. Due to their powder-coated exterior, these railings are guaranteed to never rust, have their color chip off, or need any other maintenance or cleaning whatsoever!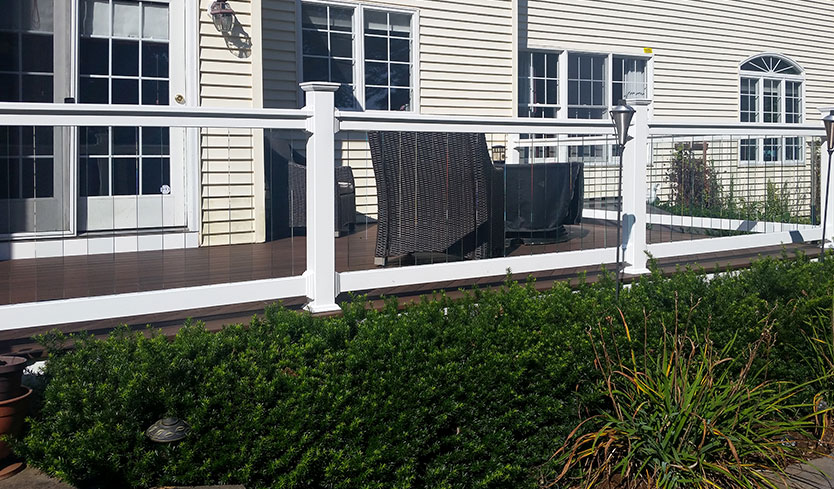 Vinyl & Glass
If you're working on an elevated deck, there's no question that the railing is a key safety feature. However, there's nothing more disappointing than when the deck railing undermines an amazing view. To combat this problem and provide unobtrusive safety, some luxury deck railings are built using sturdy glass. In this style, completely see-through glass balusters fitted in a vinyl frame are used to ensure the space is secure and the view is beautiful. This contemporary design is gaining popularity due to its advantages and its undeniable modern feel!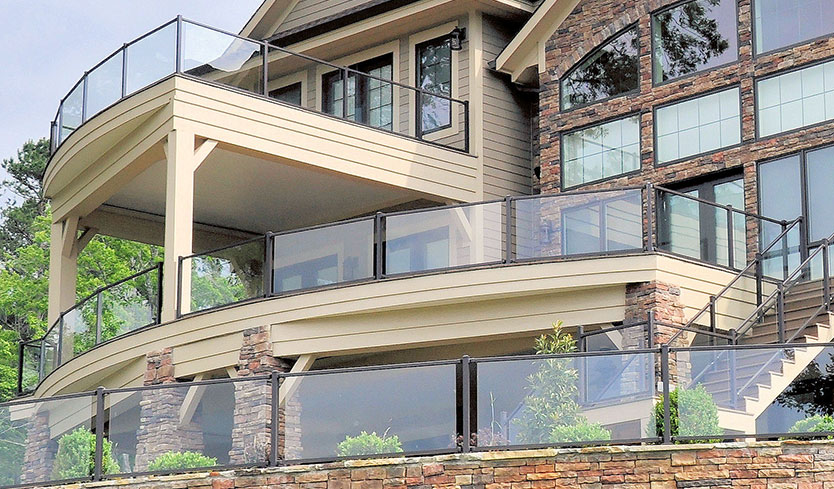 Full Glass (With Aluminum Frame)
The most modern of the deck railing options we offer, this style expands upon the see-through concept of the vinyl and glass railing. With this type, the entire panel is made of sturdy, yet completely transparent glass, making it perfect for attractive vistas and views. This railing style is equally popular for both home outdoor living spaces as well as upscale resorts — so you can easily recommend this to both homeowners AND owners of upscale commercial spaces. Once again, the wow factor for your customers is off the charts!
Pair Your Railing with a New Fence
These luxury deck railings are built to make a practical upgrade into something absolutely gorgeous at the same time. The majority of homeowners will pay more for a product that looks beautiful — and is equally functional.
And since many of these luxury railings pair well with a complementary yard fence, upgrading both at the same time can be a great idea — making this the perfect time to mention something to your customer. Like with railings, we offer a wide range of gorgeous fences (in vinyl and aluminum) that enhance the feel of almost any space. Plus, we even give contractors the ability to build a one-of-a-kind fence — see custom fence inspiration right here!
Shop Luxury Deck Railings Today
If you're ready to make a decision, we're here to help. If you want to order one or more of these luxury deck railings you like, simply reach out to our team to get prices and arrange everything. Contact us right now to get started or to ask any questions!