Modern Aluminum Fence Styles, Colors & Designs
Aluminum fences have rapidly become the preferred choice for homeowners and property managers seeking an elegant and durable fencing solution. But what truly sets them apart are the mesmerizing styles and an expansive palette of colors that elevate them to the forefront of contemporary design.
In this article, we embark on a visual journey through the latest trends in aluminum fencing, exploring innovative styles, aluminum fence colors, and cutting-edge designs. Whether you're looking to enhance your home's curb appeal, secure your property, or simply transform your outdoor space into a modern oasis, you'll discover the endless possibilities aluminum fencing has to offer.
Are you ready to uncover the perfect aluminum fence style for your property? Read on to explore fantastic options or visit our website to browse our extensive collection of fencing options now. Your dream fence is just a few clicks away!
Modern Metal Fence Styles 
When it comes to enhancing your property's security and curb appeal, there's no denying the power of modern metal fence colors and styles. At Greenway Fence, we take immense pride in offering a diverse range of residential, commercial, and industrial-grade aluminum fencing options.
Here's a quick breakdown of the most popular aluminum fence styles we offer:
Regis 3131  – At first glance, you'll notice that the standout feature in the Regis 3131 is the row of elegant spears on top of the fence. They add a touch of grandeur to your home, as they look like traditional wrought iron fences but with a much more minimalistic design. They aren't just for decorative purposes; their sturdiness helps keep your property safe!
Contrasting with the trendy closed board fences, this aluminum fence style leaves the space airy and open.
Finally, this fence style's foundation is a robust triple rail system. A single rail runs subtly through the bottom, providing stability, and two rails secure and decorate the upper part.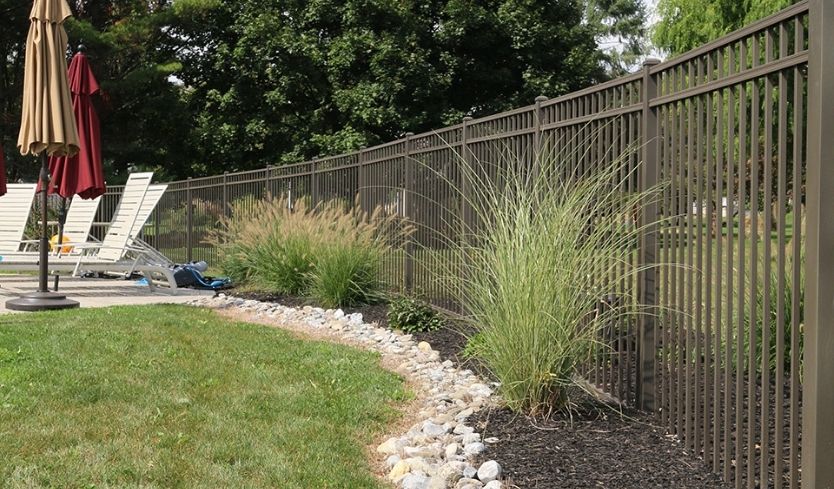 Regis 3230– Among our popular aluminum fence styles, the Regis 3230 stands as the epitome of clean, modern, elegant design.
Unlike the previous modern metal fence, this choice is favored with a refined flat top that adds a touch of sleekness to the design. As a result, it's a preferred choice for homeowners looking for a subtle but sophisticated look.
Also, if you happen to have a pool, this might just be the best choice for you! The fence meets national pool code requirements for both height and spacing, but it's always advisable to check local regulations before purchasing to ensure compliance and safety.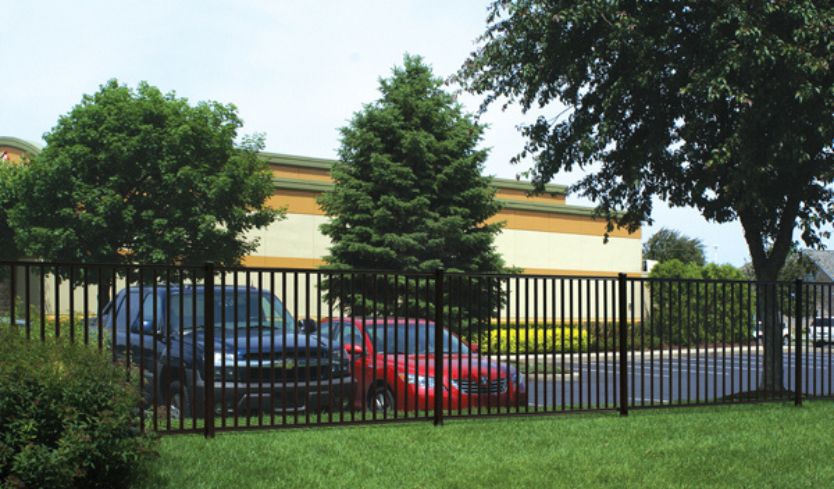 Regis 5220 – Finally, for those who like a minimalist approach, there's the Regis 5220 fence. This modern metal fence with just two rails embodies a streamlined look. The absence of additional rails or spikes ensures the view remains clean and unobstructed, making it an ideal choice for spaces where the scenery is a priority.
Like the previous option, this fence also meets the national pool code requirements for height and spacing. Because of that, this aluminum fence style is versatile, as it's suitable for industrial applications and residential areas.
Of course, these three aren't the only aluminum fence styles we offer at GreenWay, but they're a few of the most loved! If you want to see other styles with different popular fence colors, check out our fencing products here!
Aluminum Fence Colors 
After discovering our popular aluminum fence styles, it's time to learn about the popular fence colors!
Our modern metal fences are far from ordinary, offering a vibrant spectrum of options to suit your unique preferences. Here's a selection of hues favored by homeowners like you:
Black – Something about the elegance of black always puts it on top when it comes to aluminum fence colors. This could be because it always complements any architectural style, whether modern or traditional. Moreover, a black fence can strike a contrast against a landscape garden or a light-colored home, making the greenery around pop.
Bronze – Another favorite metal fence color is the warm Ninety Bronze we offer. This color carries an antique charm reminiscent of old-world elegance, which makes it perfect for homes with a rustic design. Also, this is an excellent choice if you like your fence to blend in with nature and the surrounding wood without causing any distractions.
Clay – Clay provides a subtle, neutral backdrop that doesn't overpower your home or its scenery. As a result, it became one of the most popular fence colors for many homeowners.  If you have a contemporary-designed home, you might want to consider this color!
Chocolate – Now, if you want a deep hue that offers a sense of luxury and richness, this chocolate metal fence color is your hero! Just like bronze, chocolate has warm undertones that go perfectly well with rustic homes. Plus, it doesn't steal the attention from its environment.
Speckled Walnut – The speckled walnut is the last popular choice in our aluminum fence colors list. Unlike solid colors, the speckled walnut offers a distinctive look, making your fence stand out. It also gives a more natural, wood-like feel, perfect for those who love a natural appearance but want durability.
Ready to infuse your property with personality? Explore the full spectrum of our aluminum fence color options to find the perfect shade that complements your style and transforms your space.
Discover Popular Fence Colors and Designs at GreenWay
At GreenWay, we're not just your premier fence and railing distributor and manufacturer in Pennsylvania; we offer a comprehensive range of fencing solutions that extend beyond aluminum. Our expertise encompasses vinyl and custom fences, designed to enhance the aesthetics of your property.
Plus, we've got you covered even if you live beyond Pennsylvania's borders. We cater to various locations, including Ohio, Maryland, New York, New Jersey, Virginia, Delaware, and more. Our dedicated team is committed to providing exceptional quality in both metal fence colors and designs, all of which are locally sourced and expertly fabricated.
So, how do you feel about bringing your vision to life with our aluminum fence styles? Contact our team and get your dream home now in PA and the surrounding states!